Jamie Oliver tops Christmas book chart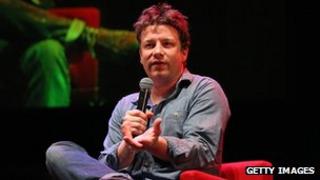 TV chef Jamie Oliver has topped the festive book chart, scoring his third consecutive Christmas number one.
117,911 copies of Jamie's 15-minute Meals were sold in the UK last week.
In the final chart before Christmas, Oliver sold more than double the number of copies of the next best-selling book, Guinness World Records 2013.
Oliver said he was "humbled", adding: "It was the hardest book I've had to write in 14 years and I absolutely put my heart and soul into it."
"To write a book about everyday food that was both healthy and quick and delicious was a real challenge but one that I enjoyed. Happy Christmas and happy cooking."
This year's instalment of the Guinness World Records sold 55,494 copies last week, followed by Miranda Hart's Is It Just Me?, which sold 52,000, according to Nielsen BookScan figures.
My Time, a memoir by the BBC's sports personality of the year Bradley Wiggins, and Jeff Kinney's Diary of a Wimpy Kid novel The Third Wheel were also in the top five.
A total of £63.2m was spent on printed books in the UK last week, up £8.6m on the week before but down £4.6m on the same week in 2012.
Oliver's third successive Christmas number one follows the success of Jamie's Great Britain in 2011 and Jamie's 30-minute Meals in 2010.
His book deal has been a lucrative one for Penguin UK, said the Bookseller, accounting for sales of £134m.
The publisher's chief executive, Tom Weldon, said: "It is a great achievement to make it to Christmas number one, let alone to do it three years in a row.
"One of the keys to Jamie's success is that he tries to do something special with every one of his books."
It topped the Christmas chart on the same day that researchers claimed recipes by prominent TV chefs, including Oliver, were often less healthy than supermarket ready meals.
The dishes in TV chefs' cookbooks contained more calories, fat, saturated fat and sugar - but less salt - than off-the-shelf TV dinners, said a team at Newcastle University.
Book shop visits decline
Since it was released in September, Jamie's 15-minute Meals has sold 586,355 copies, making it the eighth biggest book of the year.
However, the year-end book chart is dominated by EL James' Fifty Shades of Grey trilogy, which occupies all three of the top slots.
The first book in the erotic fiction series has sold 4.4m copies, putting it head and shoulders above the rest of the top 10. Fifty Shades Darker has sold 3.2m copies, and Fifty Shade Freed 2.9m.
Suzanne Collins' Hunger Games trilogy also appears in full in the top 10, its sales bolstered by a blockbuster film adaptation, starring Oscar nominee Jennifer Lawrence.
The top 10 books have taken in a combined total of £14.7m over the year - accounting for 8% of all book sales.
The sales figures come as new research by the National Literacy Trust showed that one in seven young people had never been to a book shop.
Children between 8 and 16 years old from 128 schools in England, Northern Ireland, Scotland and Wales took part in the survey, which showed 14% of respondents had never been to a book shop. A further 7% were unsure about whether they had visited one.