BBC Sound of 2003: Where are they now?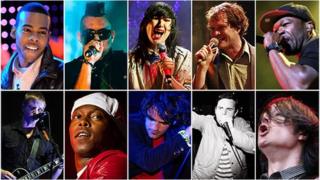 The top five acts on the BBC Sound of 2013 new music list will be revealed next week. The first list was BBC Sound of 2003, when 10 new artists were tipped for the top.
We reveal who is still going strong, who has appeared on Dancing With the Stars and who is now a part-time squash coach.
Their ups and downs hold lessons for this year's crop, as well as illustrating the seismic changes that have taken place in the music industry over the past decade.
BBC Sound of 2013: Full coverage
1. 50 Cent
50 Cent's debut album was called Get Rich Or Die Tryin'.
He got rich.
A mythologised rise from teenage crack hustler on the mean streets of New York to Eminem's protege, via a couple of assassination attempts, gave the rapper both gangsta credibility and commercial appeal.
His debut album was the fastest-selling release in the US since records began 12 years earlier.
But by his third album in 2007, he faced a backlash from hip-hop purists who felt he had lost his street cred.
His fifth studio album, Street King Immortal, has been mired in delays and disputes with record label Interscope, but is now scheduled for release in February, preceded by the single My Life, featuring Eminem and Maroon 5's Adam Levine.
50 Cent also recently became a boxing promoter, with Cuban former Olympic flyweight champion Yuriorkis Gamboa on his books.
2. Electric Six
Good time Detroit rock 'n' rollers Electric Six made a splash with their high-octane hits Gay Bar and Danger High Voltage in 2003.
The first album came out on record label XL and the follow-up was on Warner Brothers. After that, they learned to become "self sufficient", singer Dick Valentine says.
"We got good at being dropped from labels and how to respond to that and taking matters into our own hands."
There have been many personnel changes - Valentine is the only remaining member of the original line-up - but he has now presided over eight studio albums.
"We've been sued by a couple of ex-band members and people we've worked with," he says. "We've had moments that could certainly be considered downs. But the ups certainly outweigh them."
Their reputation as an exciting live band has helped them keep a loyal following. "We do a pretty good job of keeping costs down on the road," Valentine says. "We don't carry too many roadies. We're not afraid to be seen loading our own gear.
"If somebody comes up to us and says 'You're rock stars, why are you loading your own gear?' they usually get punched in the mouth. We do everything we can to keep it going and make it profitable."
3. Yeah Yeah Yeahs
Riding the garage rock revival led by The Strokes and The White Stripes, this New York trio, led by the distinctive Karen O, became cult favourites.
Their debut album Fever To Tell earned a Grammy nomination and was named the best album of 2003 by the New York Times.
The second and third albums both reached the UK top 10 and a fourth will arrive in the spring.
Between band duties, Karen O wrote and performed the soundtrack for the film Where the Wild Things Are and guitarist Nick Zinner has published and exhibited his photographs.
4. The Thrills
Irish indie quintet The Thrills became known for carefree, sun-drenched tunes like Big Sur and Santa Cruz (You're Not That Far).
But they were dropped by EMI after their third album in 2007.
"The Thrills have never split up but there came a point where we just did not want to do anything any more," says guitarist Daniel Ryan.
"EMI had been taken over by [private equity firm] Terra Firma before our third album came out and it was like going from a Premiership soccer team to a fourth division side. The whole record company shrank."
Ryan is now managing the Dublin band Little Green Cars - who are on the BBC Sound of 2013 longlist. Thrills singer Conor Deasy is making a solo album with Paul Butler, who produced the debut by the Sound of 2012 winner Michael Kiwanuka.
Drummer Ben Carrigan released a solo album in 2011 and composes music for films and games, while bassist Padraic McMahon works as an account manager for the professional social network Linkedin.
Ryan adds: "I think back when The Thrills was happening and I was just caught up in how exciting the whole thing was. But for me now as a manager, I don't get excited because I don't want to be looking at another band on their third album that are completely irrelevant.
"That's the worst thing about The Thrills - I feel we made a good third album and we would have had another good album in us. But there comes a point in the music business when your credit just runs out and your stock just isn't worth anything any more.
"The most important thing was knowing when that time had come. And I definitely knew that."
5. Dizzee Rascal
When Dizzee Rascal performed at the London 2012 Olympic opening ceremony, he was revisiting old haunts - the stadium was built on the site where he performed on pirate radio at the start of his career.
Dizzee has taken east London grime to the big time and paved the way for a chart take-over by home-grown urban artists.
His first album Boy In Da Corner won the Mercury Prize in 2003, but it took another five years for a real commercial breakthrough.
Despite a fall-out with his label XL, he scored five number one singles between 2008 and 2010, including Dance Wiv Me and Bonkers. The first single from his fifth album will be unveiled on 1 January.
6. Interpol
The majestic melancholy of Interpol's debut album Turn on the Bright Lights earned it a place in NME magazine's top 10 albums of the 2000s.
Their commercial success grew steadily, with follow-up Antics reaching number 21 in 2004 and Our Love To Admire hitting number two in 2007. Their self-titled and most recent album made the top 10 in 2010.
Guitarist Daniel Kessler puts their sustained appeal down to the five years they spent learning their craft before their debut album came out as well as old-fashioned leg-work since.
"Our first record was released in the twilight of the old guard of the music industry and the dawning of the new one," he says. "We put out a record and toured it and built a word-of-mouth fanbase. That helped us.
"When bands come out today, they get swept up a lot quicker because you can discover bands in two seconds on the internet. When we came out, we didn't have that."
Singer Paul Banks released a solo album this year and a 10th anniversary edition of Turn on the Bright Lights has just come out. The group have started writing material for a fifth Interpol album.
7. Audio Bullys
The "dirty house" duo, with bulging beats and geezer vocals, provided the soundtrack to many a debauched night out.
Their biggest smash was a reworking of Nancy Sinatra's Bang Bang (My Baby Shot Me Down), which reached number three in 2005.
But one half of the duo, Tom Dinsdale, left this February and said he would perform under his own name.
The remaining Audio Bully Simon Franks has been working on new material and says he is still making "a good living" from playing live in places like Russia, Holland and Argentina.
"But I think it's time, if I'm going to keep it going, to put out some new music," he says.
"I'm at a crossroads - I've got all this music and I'm not doing it with Tom at the moment, so how do I do it? Do I keep the brand going or do I start something new? That's the question I keep asking myself."
8. Mario
R&B singer Mario Barrett was 15 when his debut album reached the US top 10 in 2002.
He hit his peak two years later with his second album Turning Point, which earned two Grammy nominations and included the hit Let Me Love You.
But he never quite joined pop's A-list. After two more albums, he appeared on Dancing With The Stars in 2008.
He also made an MTV documentary titled I Won't Love You to Death, in which he helped his mother get treatment for heroin addiction. He is now working on a new album.
9. The Datsuns
Raucous New Zealand rockers The Datsuns blazed onto the scene and were named best live band at the NME Awards in 2003.
"We had that first wave of success in the dying gasp of the music industry, before downloading changed everything," says guitarist Christian Livingstone.
The desire to play music, rather than achieve fame and fortune, has kept the band going, he says.
"When you get in that situation we got [into], there is the inevitable backlash which did occur and was very harsh and unpleasant. But we kept on going because the fame and all that stuff was not the reason for doing it.
"So when that [fame] reduced in scale, we soldiered on and here we are, 10 years later and five albums in, still doing it."
But The Datsuns no longer make enough money to live off their music alone. So Livingstone has a sideline building guitar pedals, singer Dolf DeBorst runs a recording studio in Sweden, guitarist Phil Somervell is a squash coach and drummer Ben Cole is a session musician and drum teacher.
"Everybody's got something on the side to keep the ball rolling," Livingstone says.
The guitarist recalls the effects of turmoil in the music industry. Staff levels at their record label V2 were continually shrinking until the label itself vanished.
"Now you have to do things in a different way if you want to keep going," he says. "We put out our latest record ourselves because that's just the best way for somebody like us to do it."
His advice to bands on the Sound of 2013 list? "Make hay while the sun shines," he replies. "The ability to monetise music is a limited and narrow thing these days. So if you have the opportunity to do it, do it while you can."
10. Sean Paul
The Jamaican star has remained one of the biggest names in reggae and dancehall for the past decade.
He broke into the mainstream with his Grammy-winning second album Dutty Rock in 2002.
All three subsequent albums have been nominated for the Grammy Award for best reggae album.
He has scored 13 UK top 20 singles, including several collaborations with the likes of Beyonce, Jay Sean and Sasha.