What difference will the Pollard report make to the BBC?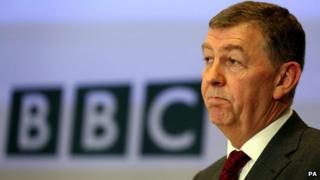 Nick Pollard brought two essential qualities to his review.
One was a lifetime's experience as a journalist. His report is written with a combination of a journalist's directness and a lawyer's attention to detail; his judgements are informed by common sense and long experience of the way journalists work and take decisions.
The second was his status as a well-informed BBC outsider, a senior television figure who worked for the BBC as a young man in the 1970s, but has since forged a career as a senior executive at rival, much smaller organisations: ITN, Sky News and latterly the forces broadcaster SSVC.
He sees clearly, in a way that insiders often don't, the shortcomings in the way the BBC is managed, the way decisions are taken (or, just as often, not taken), the way its constituent parts are often at war with one another and the way in which responsibility for difficult or mistaken decisions can be too easily shifted by managers onto someone else.
If he succumbed to the temptation to indulge in a little BBC bashing in what the BBC Trust chairman Lord Patten called his "searingly honest" report it was justified by the circumstances and the evidence.
The most positive thing for the BBC in Nick Pollard's report is the central conclusion that, whatever else may have happened, and however reluctant some of those involved in the investigation may be to accept it, Newsnight's story about Jimmy Savile was not pulled because of tribute programmes to the dead star scheduled to run at Christmas last year, or that any improper pressure was put on Newsnight's editor to drop it.
Indeed he reports two occasions on which the editor's bosses explicitly told him to press ahead with the investigation regardless of what else the BBC might be doing.
That will come as a relief to those who believe that the reputation of BBC News for trustworthiness and independence is one of the Corporation's most valuable assets. Any other conclusion would have been little short of disastrous.
The most depressing finding is his conclusion that, once the storm broke, the BBC response "lacked leadership and co-ordination", that the BBC's management seemed "completely incapable of dealing with it" and that even systems put in place to prevent such fiascos didn't work properly.
Indeed, he highlights the decision to remove the Newsnight Savile investigation from something called the Managed Risk Programmes List, which circulates to all BBC departments as an early warning of programmes that might, among other things, pose a "reputational risk" to the Corporation. That decision ("a serious mistake on his part, for which he has not been able to provide any credible explanation") was taken by the deputy director of news, Steve Mitchell, who is resigning. On the other hand, the criteria for including programmes in the list have never been properly spelt out.
Few journalists would relish their actions being subjected to the kind of detailed scrutiny with which Pollard dissects former Newsnight editor Peter Rippon's "seriously flawed" decision not to run the original Savile investigation, the editor's relationship with some of his programme team (it had "broken down"), Steve Mitchell's role in the decision ("I found the frequency with which Mr Mitchell's memory failed him surprising"), or his boss Helen Boaden's reaction to the "virtual meltdown" in parts of her division ("she should have taken greater responsibility").
Nick Pollard makes some sensible recommendations for tightening up procedures in future. But what wider difference will his report make?
As a result of it several executives will move to new jobs, but only one - Steve Mitchell - will leave the BBC, and that not immediately. That's provoked criticism outside, with allegations that the BBC is failing to take the Pollard conclusions seriously enough.
The new line in Nick Pollard's report which other news organisations have already seized on is the warning in an email in 2010 from Nick Vaughan-Barratt, the BBC's head of events until he retired in 2011. Vaughan-Barratt had worked with Jimmy Savile as a young man, and said he thought an obituary programme on the star to run on the day of his death would be inappropriate, because of "unanswered questions and rumours regarding his personal life" .
In a later email to George Entwistle, then head of television at the BBC, he said "I'd feel v queasy about obit. I saw the real truth!!!" and in yet another email he referred to Jimmy Savile's "dark side".
When the Pollard inquiry interviewed him Nick Vaughan-Barratt explained he was thinking of Savile's unorthodox lifestyle, his "weird" personality and his professed dislike of children. He also told the inquiry of his suspicion that Savile was gay, and recalled one occasion when he'd picked Savile up one morning and the star had emerged with a teenage girl. But he stressed that before 2012 he had no suspicion that Savile had done anything illegal.
This is not, Pollard concludes, a "smoking gun": but it's further evidence that BBC staff had doubts about Savile during his lifetime; and it does raise questions about the wisdom of running those tributes last Christmas.