Les Miserables movie reaches out to the uninitiated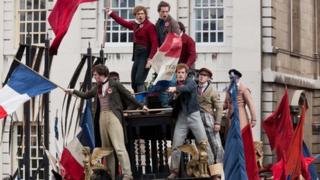 The film version of Les Miserables opens in the UK this week. Will Tom Hooper's starry affair have the same success on British cinema screens as the musical has enjoyed in the West End, on Broadway and elsewhere?
Over the past three decades, Les Miserables - the record-breaking hit musical based on Victor Hugo's 19th Century novel - has been seen by more than 60 million people, in more than 40 countries and in more than 20 different languages.
With statistics like that, it is hard to believe there is anybody left who has yet to attend a performance of this sweeping story of romance, revolution and spiritual redemption.
Yet that is precisely the demographic Tom Hooper is hoping to attract with his new big-screen version - a star-studded endeavour boasting the likes of Hugh Jackman, Russell Crowe, Anne Hathaway, Sacha Baron Cohen and Helena Bonham Carter.
To do so, the Oscar-winning director of The King's Speech will have to overcome the stubborn resistance that some people have to one of the staples of the genre - characters bursting into song at the drop of a hat.
Everyone sings in Les Miserables. In fact they never stop, with Hooper opting to retain the sung-through format of the Alain Boublil and Claude-Michael Schonberg stage show.
Some of what they sing - notably I Dreamed a Dream, the poignant ballad widely popularised by Britain's Got Talent runner-up Susan Boyle - will sound familiar.
But an awful lot of it will not - not least Suddenly, a new tune added to the score that is expected to earn Hooper's movie one of several Oscar nominations.
"Obviously I made this film for the fans, because there's a huge audience who hold it very close to their hearts," Hooper told the BBC News website last month, one day after his film's London premiere.
'Physically demanding'
"I wanted to give them a new experience of what they love in a way that would protect what they love, but would also open their eyes to a different way of looking at it.
"But also I want to look after the people who have never seen it and don't know about it," the London-born film-maker continued. "It had to work for them too, because a movie of this scale, even though it has many, many fans, needs to play beyond that.
"I wanted to find a way to make this story work so [even] if you were eight years old you would understand it and follow the plot."
Hooper's chief tactic was to record all his cast's vocals live on set, a ploy aimed at making their characters' emotions feel honest, heartfelt and immediate.
For Jackman - the Australian actor charged with portraying the central character, paroled convict Jean Valjean - that contributed towards making this "the most physically demanding role" he's ever had.
"Singing is very physical," the X-Men star explains. "You need stamina to be able to sing for 12 hours a day.
"And we knew we were not going back to fix it so every day had this incredible atmosphere. It was like an opening night and a closing night all at once."
The 44-year-old is no stranger to treading the boards, having appeared in Sunset Boulevard in Melbourne, Oklahoma! in London and The Boy from Oz - a musical based on the life of Australian entertainer Peter Allen - on Broadway.
'Part of the culture'
Perhaps that justifies his confidence in Les Miserables winning just as many admirers in its latest incarnation.
"I think on some level people are going to know something about it, even it's just Susan Boyle's I Dreamed a Dream," he said. "It's part of the culture now.
"But even if you've seen the stage show, what Tom has done is really highlight the story and make it even more accessible."
Those sentiments are echoed by Hathaway, who gets to sing I Dreamed a Dream in her role as the factory worker-turned-prostitute, Fantine.
"Les Mis is just an incredible story," she says with a smile. "There's a reason why 150 years after it was first published it's still so popular."
The film constitutes something of a reunion for the 30-year-old New Yorker, who performed with Jackman when he was hosting the 2009 Academy Awards.
The actress went on to co-host the ceremony two years later, during which she sang the Les Miserables standard On My Own.
"That song was a really last-minute addition," Hathaway recalls. "They asked me to sing a song and I've been a huge fan of Les Mis since I was seven."
All this talk of Oscars, however, will not tempt the Dark Knight Rises star to discuss her chances of winning the best supporting actress Academy Award that is widely thought to be hers to lose.
"I'm not looking ahead," she tells the BBC firmly. "We've had such a warm reception I don't think I could be happier, whatever happens in the future."
Les Miserables is out in the UK and Ireland on 11 January.