Chicago becomes third longest-running Broadway show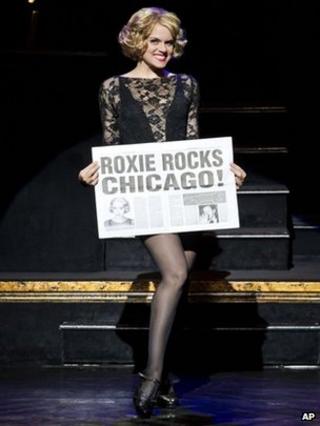 Chicago the musical has entered the history books, by replacing Les Miserables as the third longest-running show on Broadway.
Thursday night's performance of the 1920s musical was its 6,681st.
The other two longest-running shows are Cats, with 7,500 performances, and The Phantom of the Opera, which is still running after more than 10,300 shows.
Chicago producer Barry Weissler said it was "a truly remarkable day," in a statement to Playbill magazine.
"Throughout the past 17 years, this production has exceeded my wildest expectations time and time again," he said.
"Six Tony Awards, a Grammy Award-winning cast album, a six-time Academy Award-winning film adaptation, celebrated productions in 24 countries and 12 different languages across the globe.
Other records
"On behalf of the entire Chicago company, I want to thank the legions of fans and beloved audience members worldwide who have helped our show achieve this incredible milestone in Broadway history."
Directed by the late Bob Fosse, the original Broadway production of Chicago opened in the summer of 1975 and ran for more than 900 performances.
The show, featuring songs such as All That Jazz, is a satirical look at the themes of celebrity, scandal, and corruption in 1920s Chicago - as a scheming showgirl tries to get away with murder.
The show's current Broadway revival, which launched in 1996, holds the record for the longest-running musical revival and the longest-running American musical in Broadway history.
In 2002, the story was adapted for the big screen by director Rob Marshall. Starring Catherine Zeta-Jones, Renee Zellweger and Richard Gere, it won six Oscars the following year, including Best Picture.
The musical closed in London's West End in September 2012 after 15 years.