Strictly Come Dancing: Behind the music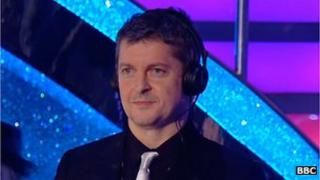 Dave Arch and his orchestra are the musical backbone of Strictly Come Dancing, learning up to 14 songs a week for the celebrity dance show.
Rarely seen on-screen, the 20-piece band have to master everything from orchestral suites to body-popping R&B, and they only get to rehearse with the dancers for one day.
BBC Radio 4's Front Row spoke to Dave, bass player Trevor Barry and singers Lance Ellington and Hayley Sanderson about their experiences on the programme.
What's an average week like on Strictly Come Dancing?
Lance: Well, we would normally get told about the songs on a Monday, or sometimes on a Tuesday. So we take our time to learn our material during the week, and have a rehearsal on a Friday evening, which is the first time we get together as a band and go through the stuff.
Then Saturday is the longest day of your life.
So Saturday you're in rehearsal all day?
Lance: Yes, we're in very early in the morning and that's the first time we all get together as the singers, the band, the professional dancers and the celebrities.
Trevor: That's when Dave gets bombarded with a lot of questions. They might want to put a leg up in the air, so David will be asked to mark it somehow, or slow the song down, or give it a big jazz hands finish. That's great fun, because it makes it more personal for the dancers.
Are you sometimes surprised or challenged by the songs you're given?
Trevor: Yes, very surprised. Some of them are very challenging, very hard to play. Some people have thrown a big classical tune in, and that's confusing and challenging to work out - how Dave will make a 130 instrument symphonic piece work with a 20-piece orchestra. It's great fun to see.
Do you get involved in the competition? Do you have favourites?
Trevor: Yeah, I do. You get to know some of these dancers, and their dedication and their passion for what they do is very similar to the passion we have for what we do.
But do you root for anyone in particular? Are you thinking "oh no" if they stumble or make a mistake?
Trevor: No, no. You have to support them all.
Hayley: And you can't watch every dancer. You're concentrating, hopefully, on the music. But if I haven't got a song, I do watch and I get really involved. In one rehearsal, Tommy told me to shut-up because I was screaming throughout! I haven't done it on a show, thankfully.
Dave: But we obviously see everything from behind, as well. So it's not until you get to watch it back that you see the actual dance as it's meant to be.
What happens when things go wrong on the dancefloor? Do you stick to the tune, or do you try to follow what's happening with the dancers?
Dave: The only thing I could change would be the ending. It's all been rehearsed so much that way - the camera shots, the lighting. So no.
Do you ever get a tip-off from the producers that a certain celebrity might have issues?
Dave: I don't think it would be in secret. It's incredibly rare - but it might be that they've got to get across the floor to hit a certain cue, so I might slow up to hit that cue, for instance. But it's a rare event because they rehearse to that track all week.
How accurate do the cover versions have to be?
Hayley: For the singers, it's really noticeable if we put too much of our own stamp on it, because some of the celebrity dancers don't count like a dancer would. They're following the words, so they might put their arm up on the word "and", so if you slightly change the phrasing, they do come up and say "we need that exactly in the right place".
Dave: A breath, even.
Lance: They've obviously spent a whole week rehearsing to a cut-down of the original song, so it needs to be pretty much as close as it can be.
Hayley: A pro dance is different. The professionals know how to count, and what to look for. But you've got no chance with someone like Ann Widdecombe.
What was it like playing for Ann Widdecombe? What were the challenges?
Lance: Trying not to laugh. When she did Titanic, the producers came beforehand and said "try to stay looking forward. Don't look up, don't laugh". But with the best intentions… The flying Widdecombe was a pretty special moment.
What about other hairy moments?
Lance: I remember we had to stop the show once a few years ago, didn't we, with Hot Hot Hot? Mark Ramprakash and Karen Hardy got their costumes caught up with a mic lead and they couldn't continue. Bruce came in and saved the day, but it came to a grinding halt at that point.
Hayley: Bruce is amazing when he improvises.
Trevor: He loves it when it goes off-script. It's his natural, default setting. He's incredible when he does it.
How do you know when you've done a good show?
Trevor: Because Dave is still talking to us at the end.
The final of this year's Strictly Come Dancing is on BBC One at 1830 GMT on Saturday, 22 December. Dave Ar ch and his band were speaking to Kirsty Lang for BBC Radio 4's Front Row.