Mantel 'excited' by TV and stage versions of her novels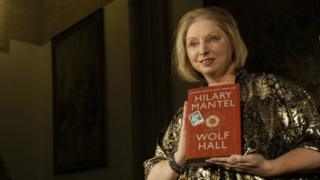 Hilary Mantel has told the BBC she is "excited" by the forthcoming stage and TV adaptations of her award-winning novels.
Wolf Hall and its sequel Bring Up The Bodies both won the Man Booker Prize, with the latter picking up the Costa novel prize last week.
Tony award-nominated writer Mike Poulton, who has worked with the Royal Shakespeare Company many times, is writing the stage adaptation.
The BBC announced last year that Bafta award-winning screen writer Peter Straughan was working on the TV version, which is expected to be shown in six-parts on BBC Two.
Mantel is currently writing the third instalment in the historical trilogy about Thomas Cromwell, titled The Mirror and The Light.
How are the adaptations of your novels coming along?
The stage production is actually two plays, this is what we are hoping to do. One play of Wolf Hall and it will be followed the next evening by Bring Up The Bodies so you have got a mini-cycle there.
The TV adaptation is six hours, so that's a very different pace at which to tell the story. Peter Straughan is still writing it and he is now getting along very fast so we should have a first draft of all the episodes very soon.
What was it like handing your work over to someone else?
I think you have to accept that when your story goes into a different medium, it needs to be told in a radically different way. You have to shake up all the elements of it and watch them come down again.
I am trying to help out but not be a control freak. I don't want to bulldoze the whole project and be seen to be nudging elbows. I am there for people to talk to if I can help out.
I do believe it is possible to produce a version for either stage or TV which is accurate as far as the history goes but is also dramatically strong. I don't see any contradiction between those two aims and because we have excellent people working on both projects, I think that's something we can pull off.
How much involvement have you had so far?
Well it is too soon to say what it will be in total but I am reading the scripts as they evolve.
To me, it is more exciting particularly to have a stage version because I love the theatre. I suppose one of the things I regret is that I've never tried writing a stage play.
I am very glad someone else is putting in those hours, applying their experience, their craftsmanship and - if it does eventually come to the stage - that, to me, perhaps after winning all these glorious prizes, will be absolutely the best thing that could happen for my books.
How is the third book in the trilogy coming along?
I have had little time to write since the publication of Bring Up The Bodies last May. It's coming along at the pace of one good idea a day, some of those ideas are very big, some of those are very small and some of them will turn out to be not such good ideas. Considering how little time I have had, I am quite happy with the way it is going.
What I am not prepared to do is predict when it will be ready. Fiction is so surprising, you never know what a book will do. I am really prepared for anything. Wolf Hall and Bring Up The Bodies are very different books and I expect this one will be again.
I do want above all things to be working on my new book because I have a feeling that it has surprises for me. There are things about it I don't know and I am curious to find them out, I want to know what I will write.
Are you feeling the pressure because of the success of the previous two books?
I'm not thinking about how this book can match up to its predecessors, I am not letting the whole prize thing get to me in that sense because it is starting again.
Every day for a writer should feel like that, so when you come down to sit at your desk, you are not remembering the prizes or the reviews or the critics, you are just trying to solve the problems in front of you.