Juno Temple: Rising star set for Sundance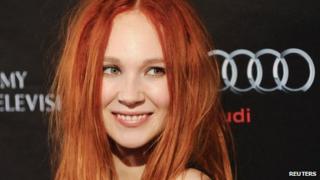 For several years Juno Temple has been a rising star in the movie industry. Now she has three films set to premiere at the Sundance Film Festival.
Juno Temple is catching her breath - and wants to catch up on some films - after a hectic 2012.
"I got to play a prostitute, a schizophrenic, a fairy and a dead girl," she explains. "It was a good year!"
We are at Bafta HQ in London, where the 23-year-old daughter of British film director Julien Temple has been tipped as one of this year's crop of future stars of cinema.
Temple is almost unrecognisable from her most recent big-screen outing in crime thriller Killer Joe, in which she played vulnerable, child-like Dottie Smith opposite Matthew McConaughey, as a twisted Texan detective.
The actress explains that her current cascade of red hair is the legacy of recently-wrapped film Horns, which stars Daniel Radcliffe as a young man who wakes to find strange growths sprouting from his temples.
"It was a magic, mystical experience," says Temple. "We were filming in Vancouver in these incredible forests - and all my stuff was shot at night."
She also recently completed filming on on Disney's live-action fairy tale Maleficent. Out in 2014, it stars Angelina Jolie and is a retelling of Sleeping Beauty from the perspective of the evil antagonist of the title. "My little brother can go and see that one," laughs Temple.
Her more adult-orientated - and much praised - role in Killer Joe saw her under the directorial wing of William Friedkin.
"He's a master of his craft and changed the history of cinema with The Exorcist," enthuses Temple.
"I had to play Dottie as as very innocent and very young, and at the same time very all-knowing. To combine those things was a challenge, but Billy helped me so much. It's a movie that I'm so proud to be a part of."
One reviewer said Killer Joe catapulted Temple "into the first league of ones to watch".
Now Temple is off to the Sundance Film Festival, which begins this week in Utah, where three of her films will premiere.
One of these is Afternoon Delight, which follows the story of a Los Angeles housewife Rachel (Kathryn Hahn) who visits a strip club to spice up her marriage. She meets McKenna, a stripper played by Temple, and decides to adopt her as her live-in nanny.
Temple, who had to learn how to lap dance for the role, praises her "extraordinary" first-time director Jill Soloway. "I'm so proud of it," she says. "The movie is so beautifully pieced together."
Another Sundance premiere is biopic Lovelace, in which Temple appears opposite Amanda Seyfried who plays former porn star Linda Lovelace.
The film, by Rob Epstein and Jeffrey Friedman, charts the story behind Deep Throat - the 1972 pornographic film that became a cultural phenomenon - and the more sinister narrative behind it.
Temple's third Sundance outing is Magic Magic, directed by Sebastian Silva, in which she stars opposite Michael Cera as a young woman who begins to mentally unravel while on holiday with her friends in a remote part of Chile.
"Playing a schizophrenic was a tough one," admits Temple. "It's an extraordinary adventure, but it's an upsetting movie."
Temple's breakthrough role was in 2006's Notes on a Scandal in which she played Polly, the rebellious daughter of Cate Blanchett's character Sheba.
Her other film appearances include Atonement, The Other Boleyn Girl, The Three Musketeers, and St Trinian's and Pandaemonium.
The latter was directed by her father Julien Temple whose work includes Sex Pistols film The Great Rock'n'Roll Swindle, pop videos for David Bowie, and documentaries about Kinks singer Ray Davies and Joe Strummer of The Clash.
"My father is such a big inspiration for me. I want to work with him again - and hopefully that will happen sooner rather than later."
What kind of career advice has she had from him? "The advice from him that I take everywhere is don't do anything unless you're passionate about it. I have never taken a role that I haven't wanted to play.
"I've never said 'Yeah - payday! Let's do it!' He's always said however long you're playing a role - whether it's two hours, two days or two months - you have to want to be that person and sweat and bleed for them."
She pauses, and adds: "He's also said knowledge is the key to life - that's a good one too."
The Sundance Film Festival runs from 17 -27 January. The winner of the EE Rising Star Award will be unveiled at the Baftas on 10 February.