Baftas 2013 analysis: Will Skyfall have licence to thrill?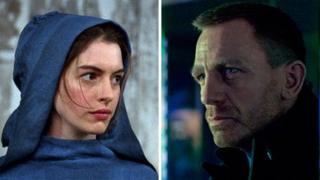 Will Les Miserables be singing from the barricades at this year's Baftas? Could the Bond franchise have a licence to thrill for its 50th birthday?
As ever, this year's British Academy film nominations mix Hollywood heavyweights with the cream of British talent.
In the best film category, three real-life stories from American history - spanning three centuries - are pitted against two films with their roots in classic works of fiction.
Lincoln, Steven Spielberg's story of US President Abraham Lincoln's battle to end slavery in 1865, leads the pack with 10 Bafta nominations in total.
The other best film contenders are Argo, Ben Affleck's 1980s-set Iran hostage thriller; musical epic Les Miserables; Ang Lee's 3D adaptation of the novel Life of Pi, and Zero Dark Thirty, Kathryn Bigelow's thriller about the post-9/11 hunt for Osama bin Laden.
Spielberg's 150-minute epic, which is released in the UK on 25 January, can be expected to repeat its success when Oscar nominations are announced on Thursday.
It is the kind of film that plays well to Oscar voters, with big performances and sumptuous visuals bringing to life a key period in American history.
Argo does a similar thing, but has the added benefit of a storyline about crafty Hollywood types helping out in a hostage crisis.
Zero Dark Thirty, which opens this week in the US and in the UK on 25 January, arrives on a wave of controversy surroundings its portrayal of interrogation techniques and the contacts the filmmakers had with intelligence officials.
Bigelow already has two Bafta wins for her previous film, The Hurt Locker, which won best film and best director in 2010.
Both Les Mis and Life Of Pi have nine nominations in all in this year's list. (Life of Pi's first-time actor Suraj Sharma also picked up a Rising Star nomination earlier this week).
Tom Hooper's musical also makes it into the list for outstanding British film. There's a sense of deja vu here: two years ago, Hooper's The King's Speech was also nominated in each category and won both.
The big question is whether Hooper can pull off the same trick in 2013? Things are not quite the same. One big Bafta shock is that Hooper missed out in the best director category this time round.
Another shock is that Steven Spielberg was snubbed too - despite Lincoln's strong showing elsewhere.
Both filmmakers might find some solace in their nominations from the Directors Guild of America (DGA) on Tuesday, which are viewed as a key indicator of Oscar success.
The outstanding British film shortlist is completed by Anna Karenina (which has six nominations plus a Rising Star nod for Alicia Vikander), The Best Exotic Marigold Hotel, Seven Psychopaths and Bond film Skyfall.
All eyes were on the latest 007 adventure to see if Bafta voters would put it in the best film category to mark the film franchise's 50th anniversary.
That didn't happen, but Skyfall has a healthy eight nominations in total, including Javier Bardem for supporting actor, Dame Judi Dench for supporting actress, and nods for original music (Thomas Newman) and cinematography (Roger Deakins).
But there's no best actor nomination for Daniel Craig as Bond, which is what he got in 2007 when Casino Royale picked up nine nominations. On the night, Casino went away with one win for best sound - plus a Rising Star award for Eva Green, who played Bond girl Vesper Lynd.
Over 50 years, the 23 Bond films have gathered a grand total of 25 nominations - mainly in technical categories. The first win was for From Russia with Love's cinematography in 1964.
Could this be the year that Bond comes in from the cold?
Dame Judi's M is a contender, though she faces a formidable threat in the supporting actress category from Anne Hathaway, whose Fantine in Les Mis is one of award season's hottest tips.
But Bafta does love Dame Judi - she now has a total of 14 film nominations across her career, with six wins and an Academy fellowship.
Also in the running for supporting actress are Amy Adams (The Master), Helen Hunt (The Sessions) and Sally Field (Lincoln).
Elsewhere in the acting categories, the British are represented by Dame Helen Mirren who is up for her leading role in Hitchcock as the film director's wife, muse and editor, Alma Reville.
Dame Helen's only Bafta film win was in 2007 for The Queen.
Meanwhile, Anglo-Irish actor Daniel Day-Lewis is a favourite to win the leading actor prize for his turn as Lincoln in Spielberg's historical drama. Day-Lewis already has three lead actor Bafta wins to his name for My Left Foot (1990), Gangs of New York (2003) and There Will Be Blood (2008).
French connection
The French are back with a strong presence this year, after The Artist dominated at both the Baftas and the Oscars in 2012.
The lead actress category sees Amour's Emmanuelle Riva - who plays a retired music teacher in Paris who suffers a stroke - up against Marion Cotillard's killer-whale trainer who suffers a catastrophic accident in Rust and Bone.
Amour and Rust and Bone are up for best non-English language film alongside Untouchable. Amour's Michael Haneke is also up for best director.
What missed out? There was no room for well-reviewed quirkier British indie offerings such as Ben Wheatley's Sightseers or Peter Strickland's Berberian Sound Studio. (Although Dexter Fletcher is nominated for an outstanding debut award - with his co-writer Danny King - for their work on Wild Bill.)
But The Best Exotic Marigold Hotel's nomination for outstanding British film recognises its huge box office success and impressive ensemble cast.
Bafta has had a good record in picking the films that have gone onto Oscar glory in recent years.
Bookies have Lincoln as the favourite to win best film, with Les Miserables tipped to take the British film prize.
While they won't be picking up awards for their directing at the Bafta ceremony in London on 10 February, it looks like Steven Spielberg and Tom Hooper might still have much to celebrate.