BBC decision to move children's TV 'cynical'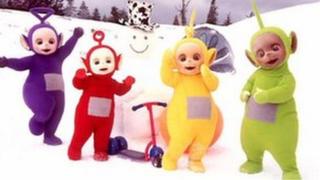 The creator of Teletubbies has accused the BBC of "ghettoising children's programmes" by ending shows for young viewers on BBC One and BBC Two.
Anne Wood told the Radio Times the move was "inevitable" but "dismissive of children".
The BBC recently decided to solely broadcast children's programming on digital channels CBBC and CBeebies as part of cost-cutting measures.
It ended a 60-year tradition on the BBC's main channels.
Wood said the change to scheduling was "cynical" and showed a "completely different attitude to the one that scheduled Magic Roundabout before the 5.40pm news".
"Children's shows have just become fodder, and as a practitioner, I feel very sad about that," she added.
Popular programmes such as Newsround and Blue Peter now air exclusively on the CBBC channel.
Wide audience
All pre-school programming is shown on CBeebies, the channel for children aged up to the age of six. Combined, the two channels have a budget of £100m.
Viewing figures for children's programmes on BBC One fell to below 1,000 on occasions before the switchover, while figures on digital have steadily increased since CBBC and CBeebies were introduced in 2002.
Wood, who also produced In The Night Garden told Radio Times that children's programmes were not watched solely by young people.
"There is a certain amount of overlooking of the fact that children's programmes do get a wider audience than people are aware of. Just as children's literature does.
"In my long career, I have frequently had letters from older people who have enjoyed my programmes as much as children do. A lot of the reason older people like to watch children's programming is because it is life-enhancing."
But Terry Deary, author of the Horrible Histories children's books which have been adapted into an award-winning series for the BBC, said it was irrelevant what channel programmes were shown on.
'Perfectly logical'
"It's progress - it doesn't matter at all," he told the magazine in response.
"The fact that children's shows have been on BBC One since the war doesn't mean they should continue, and to hang on to them would be a very backward step."
Deary also disagreed with Wood's use of the word ghetto to describe children's channels.
"Ghetto is a very emotive word and implies the children's channels are inferior. Not at all. If you're interested in sport, you go to a sport 'ghetto'. If I want to watch history, I'll watch the history channel.
"Putting children's shows on the children's channels is perfectly logical," he said.
Joe Godwin, director of BBC Children's, said the corporation was simply reacting to audience behaviour.
"Far from being a 'cynical' move, we're just following where our audience has already gone.
"It's simply not true that we're 'ghettoising' children's programmes - CBBC and CBeebies are the nation's most popular children's television channels and we also know that lots of 'former children' enjoy sitting down with their own kids to watch our programmes," he said.