President Obama picks Beyonce for inauguration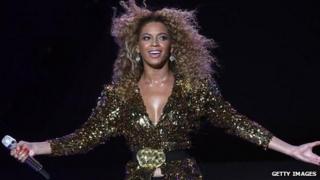 Pop stars Beyonce Knowles and Kelly Clarkson and folk veteran James Taylor will perform at Barack Obama's inauguration as he officially begins his second term as US president.
Organisers said the president was involved in selecting the performers.
"Their music is often at the heart of the American story and speaks to folks across the country," Mr Obama said.
Cuban-American Richard Blanco will be the 2013 inaugural poet at the event, in Washington DC on 21 January.
Blanco, 44, will be the youngest-ever inaugural poet and the first Hispanic or gay writer to take the role, according to organisers.
Mr Obama said: "Richard's writing will be wonderfully fitting for an inaugural that will celebrate the strength of the American people and our nation's great diversity."
For the musical segments, Beyonce will sing the national anthem, Clarkson will perform My Country Tis of Thee and Taylor will give his rendition of America the Beautiful.
James Taylor and Beyonce both sang for Mr Obama at inaugural balls in 2009 after he was first elected president.
Beyonce's rendition of Etta James's At Last has since become a staple of her live shows.
She also wrote an open letter during the re-election campaign praising the president as "the leader to take us from where we are to where we need to be".