Bin Laden drama Zero Dark Thirty tops US box office chart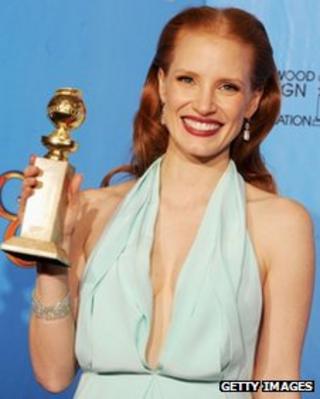 Zero Dark Thirty was the top draw in the US and Canada this weekend, taking an estimated $24m (£14.8m) in its first three days on wide release.
Kathryn Bigelow's film about the hunt for Osama Bin Laden, which had a limited cinema run last month, was last week nominated for five Academy Awards.
Its leading lady, Jessica Chastain, was crowned best actress in a drama at the Golden Globes on Sunday.
The fact-based film opens in the UK and Ireland on 25 January.
Bigelow's follow-up to her Oscar-winning The Hurt Locker has been the subject of much controversy in the US, with critics attacking its depiction of aggressive interrogation methods.
Yet that did not impede its performance at the North American box office, which was considerably stronger than that of two other new releases.
A Haunted House, a horror parody starring Marlon Wayans, opened in second place with a three-day tally of $18.8m (£11.6m), according to studio estimates.
Crime caper Gangster Squad, meanwhile, could only manage a third-place finish with a less-than-expected $16.7m (£10.3) haul.
The rest of this week's Top 10 is dominated by such awards hopefuls as Django Unchained, Les Miserables, Lincoln and Silver Linings Playbook.
Overall business this weekend came in at $142m (£88m), up more than 7% on the same period last year.