College to give X Factor lessons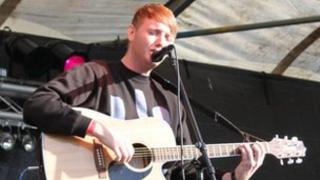 A college is launching a course to help budding pop stars pass X Factor auditions.
The 17-week X Factor Preparation course is being offered by Bishop Auckland College in County Durham, which says it is the first of its kind in the UK.
Hopefuls will get lessons in singing, performance and audition preparation.
"I've watched X Factor auditions and thought, 'you could have done well but you just weren't prepared for it,'" said the college's Mike Jinks.
The course will cost £95 and will end in time for the auditions for the next series of the ITV talent show, the college said.
The idea came about after the college put on a music festival last summer, featuring past X Factor winner Joe McElderry and James Arthur, who went on to win the contest in December.
"We will be giving them some home truths," said Mr Jinks, who is the college's head of art, music and performing arts. "This is not just about saying, 'go on X Factor and you will be famous.'
"We expect them to work hard. We expect them to understand that most people who go on X Factor put a lot of hard work and preparation into it."
It could also prompt some people to take up other forms of education and provide useful skills for other walks of life, he said.
"What they'll get is a lot of really useful transferrable skills. Whether they develop the confidence to take on an audition or take on a job interview, I don't see much difference between the skills that you need."