How To Survive A Plague up for Directors Guild award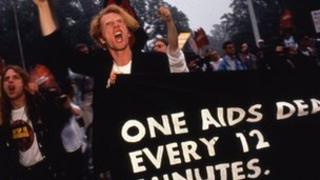 How to Survive a Plague, a film which depicts the early days of the Aids epidemic, has been nominated for the documentary prize at the Directors Guild of America awards next month.
Directed by David France, it chronicles the two activist groups that worked to bring money and attention to the disease in the 1980s.
Kirby Dick's Invisible War, about the rape of soldiers within the US military, is also nominated.
The winner will be named on 2 February.
Lauren Greenfield's The Queen of Versailles, Alison Klayman's Ai Weiwei: Never Sorry and Malik Bendjelloul's Searching for Sugar Man complete the nominations list.
Greenfield's documentary tells the story of a billionaire couple who lose it all amid the recession, while Klayman's film examines the dissident Chinese artist Ai Weiwei and Bendjelloul's tells of two South Africans' search for their 1970s music hero, Rodriguez.
All five directors are first-time nominees for the guild honour.
How To Survive A Plague, Invisible War and Searching For Sugarman are also nominated for Academy Awards this year.