River Phoenix film Dark Blood to get US premiere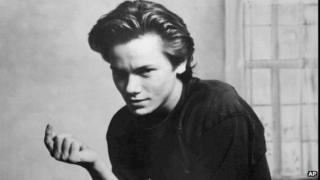 River Phoenix's final film, Dark Blood, is to premiere in the US in March, 20 years after his death.
The thriller was 80 per cent complete when the 23-year-old actor died from drug-induced heart failure outside a Hollywood nightclub.
It remained untouched until director George Sluizer decided to finish the movie in 2011, completing it last year.
Dark Blood, which sees Phoenix play an eccentric kidnapper, will be shown at the Miami International Film Festival.
The film was placed into a vault following the actor's death in 1993 and six years later Sluizer rescued it following reports that it was to be destroyed to make space.
The Vanishing director moved it to his native Netherlands where it sat gathering dust for a further 12 years before he finally decided to complete it using a mixture of stills, cutting room floor footage and his own narration.
The film, which had its world premiere at the 2012 Dutch Film Festival, centres around a well-heeled Hollywood couple - played by Jonathan Pryce and Judy Davis - who take shelter in Phoenix's shack when their car breaks down in the middle of the desert, only to become his prisoners.
Miami International Film Festival's executive director Jaie Laplante said: "The tragic loss of River Phoenix's outstanding talent is still profoundly felt 20 years later.
"We are proud that George Sluizer has honoured Miami as the place to finally share his remarkable collaboration with Phoenix and the other great artists involved with Dark Blood."
The movie does not have the backing of the actor's family, who released a statement to the Hollywood Reporter in October which read: "Despite George Sluizer's claim that he has been communicating with River Phoenix's family in regard to releasing River's last film, Joaquin Phoenix and his family have not been in communication with the director nor will they participate in any way."
The Miami International Film Festival runs from 1-10 March, with the full line-up announced later this month.