Robert Wagner 'silent' over Natalie Wood death probe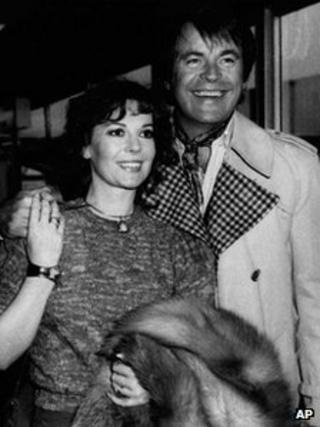 Actor Robert Wagner has "declined to be interviewed" by police reinvestigating the death of his wife Natalie Wood.
The Hart to Hart star was quizzed after Wood's drowning in 1981 but has refused to co-operate since the case was reopened, detectives said.
The body of the actress was found a mile away from the yacht she had been aboard with her husband and fellow-actor Christopher Walken in California.
It is claimed she had a "fight" with Wagner before her disappearance.
Wagner's solicitor, Blair Berk, insisted the actor had nothing to hide.
In a prepared statement, Berk said: "Mr Wagner has fully co-operated over the last 30 years in the investigation of the accidental drowning of his wife in 1981.
"He has been interviewed on multiple occasions by the Los Angeles sheriff's department and answered every single question asked of him by detectives during those interviews."
Wood's death was always presumed to be a tragic accident, but the case was reopened in November 2011 when the yacht's captain, Dennis Davern, told American television shows that he heard the Hollywood couple arguing on the night of her disappearance, suggesting Wagner was to blame for her death.
Mr Berk dismissed the claims as sensationalist, but earlier this week coroner's officials released an updated autopsy report which reclassified the death from accidental drowning to drowning caused by "undetermined factors."
The report said part of the reason for the change was because investigators could not rule out that some of the bruises and marks found on Wood's body happened before she went into the water.
Lieutenant John Corina of the Los Angeles County Sheriff's office claimed detectives have tried to interview Wagner on more than 10 occasions, but had been turned down each time.
He said: "Most of the people we've talked to were never talked to 30 years ago. We've got a lot of new information."
But when pressed on whether criminal charges could be brought, Lt Corina claimed that would be up to prosecutors, adding: "All we can do is collect the facts. We're still trying to collect all the facts."
Wood, who was 43 when she died, was a Hollywood superstar best known for her roles in Miracle on 34th Street, West Side Story and Rebel Without A Cause.
On the night of her death she had been drinking with her husband and Walken on the yacht. Her body was found near an inflatable dinghy which had been attached to the craft.
In 2008, Wagner, 82, wrote in a memoir that he had argued with Walken and when he went to bed, he noticed his wife and the dinghy were missing.
"Nobody knows," he wrote. "There are only two possibilities; either she was trying to get away from the argument, or she was trying to tie the dinghy. But the bottom line is that nobody knows exactly what happened."