West Wing star Anna Deavere Smith wins top arts prize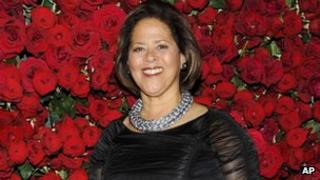 Actress Anna Deavere Smith has been awarded the prestigious Dorothy and Lillian Gish Prize for her innovative one-woman documentary stage shows.
The 62-year-old, who played a National Security chief in The West Wing, picked up a $300,000 (£188,000) cheque for "opening eyes, ears and minds".
Smith's works include her take on the Rodney King case and a healthcare show entitled Let Me Down Easy.
In a statement, the actress said: "I am deeply honoured."
Smith added: "I can't imagine a greater honour than having my name linked with the incomparable Dorothy and Lillian Gish."
The Gish sisters were huge silent movie stars, with Lillian going on to be nominated for a Best Supporting Actress Oscar in 1946 for Duel in the Sun.
The award was set up after Lillian's death in 1993, following an entry in her will, which read: "It is my desire, by establishing this prize, to give recipients of the prize the recognition they deserve, to bring attention to their contributions to society and encourage others to follow in their path."
It is awarded to "a man or woman who has made an outstanding contribution to the beauty of the world and to mankind's enjoyment and understanding of life".
Previous recipients have included Bob Dylan, Arthur Miller, Chinua Achebe and Robert Redford.
Darren Walker, of the Ford Foundation, who was on the selection committee for this year's award, said: "Anna opens our eyes, ears and minds to some of the most challenging aspects of our lives, and in so doing helps give others the courage to do the same."
Television viewers will know Smith from her portrayal of the hawkish Dr Nancy McNally, one of the president's chief advisers on foreign policy and military matters in The West Wing.
She has also played hospital administrator Gloria Akalitus in the comedy Nurse Jackie, as well as film roles in Philadelphia and The American President.