Mila Kunis stalker must stay away for 10 years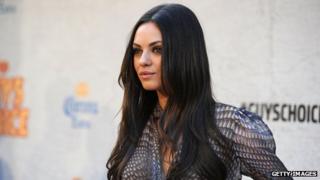 A 27-year-old man has been ordered to stay away from Black Swan actress Mila Kunis for 10 years after pleading no contest to stalking charges.
Stuart Dunn was also placed on probation for five years and to spend six months in a rehabilitation centre.
Dunn has repeatedly been arrested in his pursuit of Kunis.
He was arrested in February 2012 after being found living in an apartment she owns, and again in May after he waited for her for three days outside her gym.
Los Angeles superior court Judge George Lomeli gave Dunn credit for 528 days he spent in jail.
He was also ordered to stay away from Kunis's agents, managers and assistants.
The actress, 29, is best known for her role in the Oscar-winning ballet thriller Black Swan, as well as starring in the comedies Forgetting Sarah Marshall and Friends With Benefits.
Her most recent box office hit was alongside Mark Wahlberg in Seth MacFarlane's hit comedy Ted in 2012.