Simon Cowell to make Pudsey film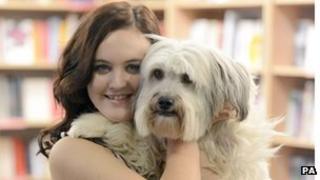 Simon Cowell is making a film about last year's Britain's Got Talent winner Pudsey the dog, according to reports.
Pudsey: The Movie will star the trick-performing dog and his owner Ashleigh Butler, says industry trade paper Screen Daily.
It's not the first time the music mogul has conceived a movie about one of the Britain's Got Talent winners.
A film about tenor Paul Potts, called One Chance and starring James Corden, is currently in post-production.
Corden spent eight weeks filming the story of the former phone salesman, Bristol city councillor and amateur opera singer turned chart-topping star last year.
Box office hit Street Dance 3D also starred Britain's Got Talent victors Diversity and George Sampson.
That film was co-produced by UK outfit Vertigo Films, who will partner with Cowell's company Syco on the Pudsey movie.
Rupert Preston of Vertigo said: "We're delighted to be developing this idea with Syco and we can't wait to bring Pudsey to the big screen. It will be great, feel-good, fun entertainment for all the family."
During last year's final, Ashleigh and Pudsey clinched the talent show title as they performed a routine to the Mission Impossible theme.
Pudsey - a Border Collie, Bichon Frise and Chinese Crested - walked across the judging panel's desk and later climbed onto Ashleigh's back.
His film is expected to start shooting in the spring, with an eye towards a Christmas release.
Pudsey's manager said in a statement: "The British people love Pudsey. He has met the Queen and was invited to 10 Downing Street by the Prime Minister.
"This represents a hugely exciting next step."