Cast announced for Jonathan Creek special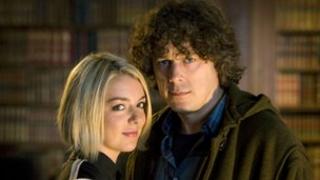 The cast-list for a new Jonathan Creek special has been announced, with Joanna Lumley among those appearing.
The Absolutely Fabulous star joins Sarah Alexander, Nigel Planer and Casualty's Hasina Haque in the one-off episode The Clue Of The Savant's Thumb.
Alan Davies resumes the title role in the one-off BBC One drama, where he will once again be assisted by Joey Ross, played by Sheridan Smith.
Rik Mayall also resumes his role as as DI Gideon Pryke.
The Clue Of The Savant's Thumb sees Creek and Ross involved in a mysterious case centred around a secret society.
The pair investigate reports of supernatural activity at a girls' boarding school and a body which vanishes in front of three witnesses.
The 90-minute show, written and directed by the show's creator David Renwick, was commissioned by BBC One Controller Danny Cohen.
It will be broadcast this Easter.