Les Miserables continues chart reign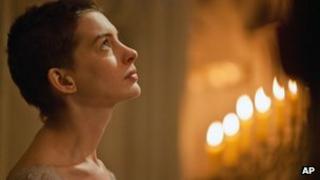 Les Miserables, starring Hugh Jackman and Anne Hathaway, has topped the UK and Ireland box office chart for the second week in a row.
After scoring the biggest UK opening for a movie musical with £8.1m last week, the Oscar-nominated film's takings fell by almost half to £4.4m.
But it easily surpassed Quentin Tarantino's Django Unchained, which entered the chart at two, taking £2.8m.
Ang Lee's adaptation of Life of Pi fell to number three with £1.2m.
Tsunami film The Impossible, starring Naomi Watts and Ewan McGregor, rose one place to four in its third week of release with £1.1m.
While Sean Penn and Ryan Gosling crime drama Gangster Squad fell to five after suffering a 62% drop in takings, selling £792,000 worth of tickets.
Peter Jackson's The Hobbit: An Unexpected Journey continued adding to its box office at six. The film has now taken £50m after six weeks of release.
The only other new entry in the top 10 was a 3D release of Pixar animation Monsters Inc at seven.
Tom Cruise film Jack Reacher suffered the biggest fall in takings since last week's chart bringing in just £212,540 - a 69% drop - after four weeks on the chart.
It finished at nine behind Dustin Hoffman film Quartet and just ahead of comedy Parental Guidance at number 10.