Amelia Bullmore explores female friendship in Di and Viv and Rose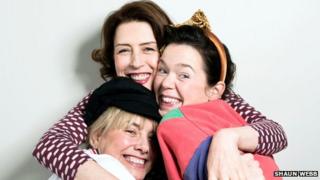 In her latest stage play, Di and Viv and Rose, writer and actress Amelia Bullmore draws on her memories of university life in Manchester in the 1980s.
Anyone who was an Eighties student may have vivid musical flashbacks during Di and Viv and Rose.
Amelia Bullmore's tragi-comedy - now at Hampstead Theatre - unfolds to a soundtrack that includes The Cure's The Love Cats, Eurythmics' Who's That Girl and Robert Wyatt's Shipbuilding.
The play begins in 1983 when three freshers - Di, Viv and Rose - meet in university halls and then move into Mossbank, their shared house.
In one memorable scene, the girls dance deliriously around the cluttered living room to Prince's Let's Go Crazy.
But as a play, Di and Viv and Rose offers far more than rose-tinted pop nostalgia.
Bullmore has crafted a powerful three-hander about a female friendship that spans three decades.
"Those early scenes reflect that certainty of youth and the seriousness with which you take your first home," Bullmore explains.
"You leave your family and you go away and the first thing you do is recruit another one."
In this case the Mossbank "family" consists of sporty lesbian Di (Tamzin Outhwaite), studious sociology student Viv (Gina McKee) and Rose (Anna Maxwell Martin), a free-spirited art student who's more enthusiastic about sex than her studies.
Early on, she announces to her housemates: "I've discovered that if you ask a boy to sleep with him - he will."
Following its original outing in 2011 at Hampstead Downstairs, Di and Viv and Rose has leapt upstairs to the main theatre to glowing reviews.
There has been some minor tinkering along the way: a new scene and a few cuts. Bullmore is excited to see her work on "a grown-up set".
"After the interval they are out of their safe first home and the set begins to stretch and crack as their world gets bigger.
"I was concerned we might lose some intimacy from downstairs, but we gain a lot of things too."
So how much inspiration came from Bullmore's time as a drama student in Manchester?
"There are little granules in there that happened, things that were said," Bullmore explains, pointing to two examples in the play.
"Somebody did throw white paint on Barclays Bank and get caught walking back to their flat because of white footprints. That happened!
"And a friend did overhear a posh undergraduate ask in the student shop if they had any proper vegetables."
Di and Viv and Rose is directed by Anna Mackmin, who also directed Bullmore's debut play Mammals, and her version of Ibsen's Ghosts.
The pair have also worked together with Bullmore as an actress - in Sheffield where she played Elizabeth Proctor in Mackin's production of The Crucible and at the National Theatre in Really Old Like Forty Five.
On TV, Bullmore is best known for her roles in Twenty Twelve, Scott and Bailey, and Alan Partridge, as well as Coronation Street's Steph Barnes in the 1990s.
Her TV writing credits include This Life, Black Cab, Attachments and Scott and Bailey.
It was while she was pregnant in the mid-90s that Bullmore started writing seriously alongside her acting career.
"I had always loved to write, and I'd been talking about writing and failing.
"My friend Niamh Cusack said she liked the postcards I sent her. She said: 'You're pregnant - no one will hire you - write for me' - so I did and that got me going."
Bullmore's writing in Di and Viv and Rose conceals within its comic exterior some heavy emotional punches.
She admits that pulling the rug on the audience is a risky business.
"It could really go wrong dropping big bombs on three people, but the point is about the awfulness of chance and how we weather calamity. Life is full of shocks, and most of the shocks are relatively small.
"When you're nearly 50 you've known people for a very long time. It never ceases to thrill or chill you how different the cards people are dealt are."
Although the audience only ever meets Di, Viv and Rose, an large cast of unseen characters circle their story. Bullmore always knew she wanted to keep it focused.
"I only wanted to see these three. They are the consomme. That is their planet they've built. They mythologise Mossbank.
"They have set themselves up as these three unassailable people, and they'd be furious if I let anybody else in."
Di and Viv and Rose is on at Hampstead Theatre until 23 February.