My Bloody Valentine end hiatus with new record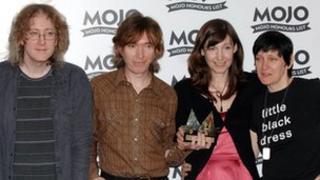 Irish alternative rockers My Bloody Valentine have released a new album - their first record in 22 years.
MBV was made available through the band's new official website at midnight on Saturday, although the site crashed shortly afterwards.
The four piece, formed in Dublin in 1984 before they moved to London, released their last album, Loveless in 1991.
It went on to become one of the most critically-lauded releases of all time.
While MBV is the band's first record in 22 years, they performed at Bestival on the Isle of Wight in 2008.
The band's frontman, Kevin Shields revealed plans to release new material in an interview with the NME in November 2012.
'Stranger than Loveless'
"I think with this record, people who like us will immediately connect with something," he said.
"Based on the very, very few people who've heard stuff - some engineers, the band, and that's about it - some people think it's stranger than Loveless. I don't. I feel like it really frees us up, and in the bigger picture it's 100 per cent necessary."
It was announced in January that My Bloody Valentine would join Blur and Jessie Ware as part of the line-up at this year's Primavera Sound festival in Barcelona.
The band recently played London's Brixton Electric when Shields revealed the new album would be released in a matter of days.
On Saturday, an announcement on the band's facebook page read: "We are preparing to go live with the new album/website this evening. We will make an announcement as soon as its up."
However, as reported in the NME, the new website crashed "almost immediately after launching" at midnight on Saturday.
The new nine-track album is available exclusively from the band's website.
My Bloody Valentine are due to tour the UK in March, following a series of gigs in Japan and Australia in February.