Mumford and Sons say Grammys are 'good for business'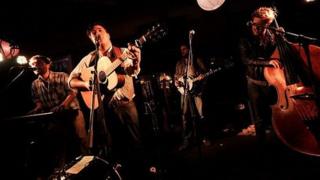 British folk band Mumford and Sons say their six Grammy award nominations are "good for business".
They are in the running for the coveted album of the year prize this weekend, for their second record, Babel, which debuted at number one in the UK and US.
Guitarist Winston Marshall says the honours "mean we can keep on touring and doing all the stuff we love".
The quartet, who played with Bob Dylan at the 2011 Grammys, will have a solo slot at this year's show.
They have also announced a mini-festival, called "Stopover", over two nights in Sussex in July.
'Dry' event
The band's Grammy nominations include two for Babel, including best Americana album, and two for their single I Will Wait - which has sold more than a million copies in the US.
They are also up for four Brits, and hope to repeat the success of their debut album, Sigh More More, which won British album of the year in 2011.
The stream of accolades is, according to Marshall, "a bit mental".
Win or lose, "it's good for business," he tells the BBC from Boston, where the band have just kicked off a US tour.
"It does a lot for a band, it did a lot for us the first time we did it, its really helped our profile in America, so it's great honour.
"I don't want to be blase about the honour but it's not something that we aspired to and ever really want to enjoy too much or dwell on. It's amazing but we just want to make more music".
Oddly his biggest concern for Sunday is not the band's performance but that, unlike the booze-soaked Brit awards, the Grammys are completely dry.
"It's about four hours and you've got all these desperate musicians trying to go for a fag and they don't want you to leave your seats and it's kind of not fun," he explains.
"I don't want to sound spoilt 'cause it's awesome that we get to enjoy those surreal things but it's also kind of bizarre, 'cause you're walking around and Will Smith's there and Jennifer Lopez."
The six nominations mean Mumford and Sons have joined the rare group of British artists who have managed not only to break into the lucrative and notoriously insular American market, but to be actively embraced by the US.
Arguably, Adele, Coldplay, One Direction and Amy Winehouse are the only others who have managed such a feat in the last 10 years.
"We've been really warmly embraced," agrees Marshall. "We spent pretty much 18 months non-stop in America when we were recording Babel and, whenever we weren't in the studio at home, we'd fly over.
"We were so warmly embraced that, going home, we almost felt like were were on the back foot, that we had a lot of work to catch up on in the UK.
"And, you know, Americans are so extreme in their emotions, you feel it even more. It's an awesome experience to see this side of the country."
Stopovers
As a thank-you to fans on both sides of the Atlantic, Mumford and Sons have announced a wave of mini-festivals later this year.
The tour is visiting five towns - four of the in the US, and Lewes in Sussex - none of which are traditional tour destinations.
It's an echo of the band's two-night event in Huddersfield last June, which featured some of their favourites artists, including Willy Mason and the BBC's Sound of 2012 winner Michael Kiwanuka.
Marshal says the inspiration came from relatively small events like Loopallu in the tiny Scottish highland town of Ullapool and the Telluride Bluegrass Festival in Colorado, where - after the music stopped, "everyone went to the pub for a pint and music played all night long".
"The best ones were in the towns which really engaged with it. We bring the bands and they provide all the local food. Last year, in Huddersfield they had locals ales and it celebrated all the best things about the town.
"Lewes is amazing. It's a very cool town, we've been down a few times and seen the best bits."
However, Marshal admits the band weren't prepared for the amount of work that comes with hosting your own event in a public space.
"When we started it, we were all all like, 'yeah we can do it better than Reading and Glastonbury, we can do our own one,' and we were really cocky.
"Literally within two weeks of trying to organise it, we realised how hard it was and we had to eat humble pie and now we've got some great people working it to help us do it."
With bands on the bill for the Lewes gig including Vampire Weekend and The Vaccines, Marshall says the £75 price tag is reasonable.
"You do appreciate how everything costs something - things that I personally took for granted but we don't want to pass it on to people.
"I remember getting annoyed going to festivals and every year it was a tenner more expensive and it wasn't any better.
"The only problem is if we don't sell any tickets."
Tickets for the Lewes show on 19-120 July go on sale on Friday 8 February.