Les Miserables tops UK box office as takings break £30m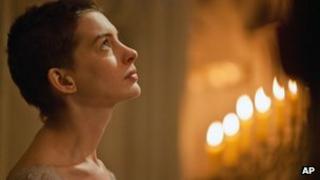 Les Miserables has topped the UK and Ireland box office for the fourth week running, becoming the first film to pass the £30m mark this year.
Tom Hooper's musical took £2.78m - a drop of 31% from last week - for a cumulative total of £30.14m.
Quentin Tarantino's Django Unchained remains in second spot after taking £1.69m for a total of £10.3m.
Denzel Washington's Flight debuted at number three with £1.4m, but Hyde Park On Hudson scraped into the top 15.
Roger Michell's portrayal of King George VI and Queen Elizabeth's visit to New York ahead of the Second World War took just £136,783 in its opening week.
The film, which stars Bill Murray as US President Franklin D Roosevelt, averaged a paltry £882 across 155 screens.
Elsewhere, Steven Spielberg's epic Lincoln - nominated for 12 Oscars - fell one place to four after raking in £1.37m in its second week for a total of £4.2m.
Bullet to the Head, starring Sylvester Stallone, debuted at number nine with £429,317.
Les Miserables, already the second-highest-grossing musical in UK box office history, still has a long way to go to overhaul Mamma Mia!.
The movie, based on Abba songs, pulled in £32.1m at the same stage of its run and went on to total £69.2m.
In all, seven films last year broke the £30m barrier: Skyfall, The Dark Knight Rises, The Hobbit: An Unexpected Journey, Avengers Assemble, Twilight: Breaking Dawn: Part 2, Ted and Ice Age 4.