BBC Two drops newsroom drama The Hour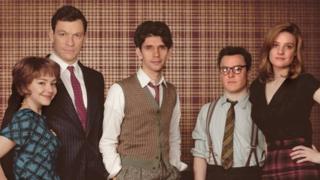 Newsroom drama The Hour will not return to BBC Two for a third series, the corporation has confirmed.
Starring Dominic West and Ben Whishaw, the 1950s series followed the lives of fictional BBC journalists at the old Lime Grove studios in London.
The show, which received multiple award nominations, mirrored the experiences of former journalists Catherine Freeman and Grace Wyndham Goldie.
The latter re-launched BBC current affairs magazine Panorama in 1955.
It was also noted that Whishaw, who played idealistic reporter Freddie Lyons, bore an uncanny resemblance to late correspondent Charles Wheeler in his younger years.
The series was written by Abi Morgan, who wrote the film The Iron Lady and co-wrote the movie Shame.
Award nominations
Produced by Kudos, The Hour was heavily trailed when it launched, with the first series drawing about 2.2m viewers.
However, the second run struggled in the ratings, falling to an average audience of 1.47m despite gaining award nominations from the Baftas, Emmys and Golden Globes.
Dominic West was also awarded best actor for his role in the series by the Broadcasting Press Guild.
Broadcast magazine reported that Jane Featherstone, Kudos chief executive, was "sad and disappointed" by the decision, as the original aim had been to produce three series.
A BBC spokeswoman said: "We loved the show but have to make hard choices to bring new shows through."
It was recently announced that Dominic West would play Welsh actor Richard Burton in a BBC Four drama charting the latter's relationship with Elizabeth Taylor.