Nicole Kidman refused to say 'n-word', co-star reveals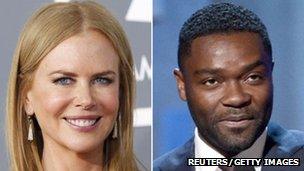 Actress Nicole Kidman refused to use an offensive racial epithet in a film when requested to do so by its director, her British co-star has revealed.
Speaking on Radio 4's Front Row, David Oyelowo said the Oscar-winning star had been asked to say "the n-word" in The Paperboy by director Lee Daniels.
"She flatly refused," said Oyelowo, who is of Nigerian descent.
"She felt that was a bridge too far for her and I really respect her for doing that," the former Spooks star went on.
Kidman, 45, received a Golden Globe nomination for her work in The Paperboy, which is released in the UK on 15 March.
Set in Florida at the end of the 1960s, the film sees two reporters, played by Oyelowo and Matthew McConaughey, work to have a murderer's conviction quashed.
Their efforts are both helped and hindered by Kidman's character, a blowsy hairdresser who has won the trust of the felon through sexually explicit correspondence.
"Anyone who sees that movie will see Nicole Kidman did virtually everything else that Lee Daniels asked her to do," Oyelowo was heard telling Mark Lawson on Wednesday's Front Row.
"But she would not do that [say the n-word]."
The offensive epithet is heard during the film, though it is another character - played by Zac Efron of High School Musical fame - who says it.
In his interview, Oyelowo voices qualms about the use of the word in drama but defends its deployment in his latest project, Channel 4's Complicit.
Broadcast on Sunday, the film tells of a British MI5 agent, played by Oyelowo, who travels to Cairo to question a terrorist suspect.
"By the time that word comes [in Complicit], you feel that a pressure valve has been broken," the actor explained.
"I think that is a good use of that word because of the emotion it elicits."
Written by Guy Hibbert, Complicit is a rare British project for an actor who now lives in Los Angeles and who mainly works in the US.
"I felt I had to make the move because there is a gap in our knowledge of black history, so to speak, in Great Britain," the actor explained.
"Things are few and far between in the UK, whereas in America... there are stories to be told that do get told with [people of colour] right in the centre."
Related Internet Links
The BBC is not responsible for the content of external sites.