Pistorius: TV show featuring shot girlfriend goes ahead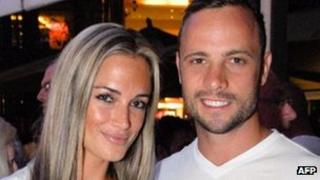 A reality TV show featuring the girlfriend of Oscar Pistorius is to be broadcast this weekend as scheduled, despite her tragic death.
Producers of Tropika Island of Treasure said they had decided not to shelve the pre-recorded show, which will premiere on South African TV on Saturday.
Filmed in Jamaica, the celebrity show sees Reeva Steenkamp compete to win the one million rand prize (£72,500).
She was found shot dead in the athlete's home on Thursday.
"This week's episode will be dedicated to Reeva's memory," a Tropika Island of Treasure producer said.
In a statement, executive producer Samantha Moon said: "As we grieve today with Reeva's family and friends and struggle to make sense of this shocking tragedy, it has taken much deliberation to come to the decision to continue screening Tropika Island of Treasure 5 as planned."
A special tribute will be broadcast ahead of Saturday's show, on SABC1, at 18:30hrs (16:30 GMT).
'Bombshell'
The show, now in its fifth series, sees seven South African celebrities and seven other contestants embark on a string of "adrenaline-fuelled" challenges over a period of 10 weeks, while living at two "7-star" villas.
Each week the winner of the challenge can decide who stays and who leaves the island.
Asked to describe herself in three words for the show, Steenkamp, 29, said: "Brainy, blonde, bombshell".
The model and law graduate, was shot dead inside the Pretoria home of Paralympic athlete Oscar Pistorius in the early hours of Thursday morning.
The pair had been together since November.
Prosecutors have said they will pursue Pistorius on a "premeditated murder" charge.
A message on the reality show's website reads: "We are deeply saddened and extend our condolences to Reeva's family and friends."