Morrissey LA concert to be '100% vegetarian'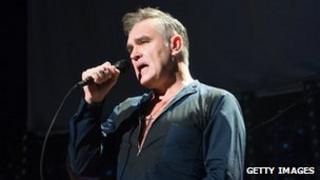 Food vendors at the Staples Center in Los Angeles will be going 100% vegetarian at Morrissey's forthcoming sold-out show on 1 March.
It will mark the first time stalls within and around the venue are not selling any meat products.
The singer and animal activist said: "I don't look upon it as a victory for me, but a victory for the animals."
The venue and promoter Goldenvoice will also donate a portion of the ticket sales to the UK-branch of charity Peta.
The decision came after the former Smiths singer urged the venue to close down their McDonald's outlets and to banish the sale of "flesh as food".
The 53-year-old star recently postponed a string of concerts due to a bleeding ulcer.
He resumes his US tour on 26 February with a performance on Live with Jimmy Kimmel.
It is not the first time Morrissey has asked venues hosting his gigs to take meat off the menu.
The animal rights activist walked off stage at the Coachella festival in California in 2009 after saying he could smell "burning flesh".