Hilary Mantel to receive Bodley Medal at Oxford Literary Festival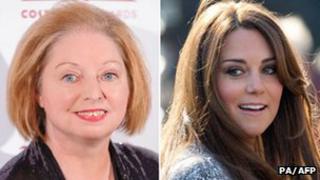 Two-time Booker winner Hilary Mantel will be honoured once more next month at the 2013 Oxford Literary Festival, organisers have announced.
The Wolf Hall author will be presented with the Bodley Medal for outstanding achievement in literature on 24 March.
Mantel drew criticism this week over a lecture she gave earlier this month in which she made observations about the Duchess of Cambridge.
"Princess Kate", she said, resembled a "mannequin" with "a plastic smile".
"Kate Middleton, as she was, appeared to have been designed by a committee and built by craftsmen," Mantel said during a speech given at the British Museum on 4 February.
The reporting of her comments prompted Prime Minister David Cameron to say she was "completely misguided", though some claimed she had been quoted out of context.
Actor Rupert Everett, art critic Brian Sewell and former Labour cabinet minister Jack Straw will also appear at this year's festival, which runs from 16 to 24 March.
Children's author Philip Pullman will receive the festival's honorary fellowship, an accolade given in previous years to William Boyd, Kazuo Ishiguro, and PD James.