Oscars 2013: Stars arrive in Hollywood for Academy Awards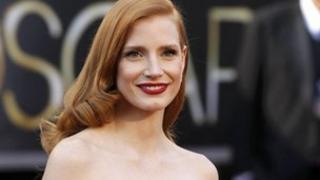 Stars are arriving on the red carpet in Hollywood ahead of what is likely to be one of the most unpredictable Academy Awards for years.
Host Seth MacFarlane is due to kick off the ceremony at the Dolby Theatre at 17:30 Los Angeles time (01:30 GMT).
Among the first nominees down the red carpet was Jessica Chastain, who is up for best actress for Zero Dark Thirty.
"I'm not going to win the Oscars tonight. I just don't think it's my year," Chastain told CNN.
Performers during the show include Dame Shirley Bassey, Norah Jones and Barbra Streisand.
Adele is set to sing her 007 theme Skyfall as part of a segment celebrating 50 years of Bond films.
The show will also salute movie musicals of the last decade, with Chicago Oscar winner Catherine Zeta-Jones and Dreamgirls winner Jennifer Hudson joining Les Miserables cast members that include Hugh Jackman, Anne Hathaway, Russell Crowe, Helena Bonham Carter and Amanda Seyfried.
No film is expected to sweep the board, and siege drama Argo has overtaken historical epic Lincoln in most predictions for the best picture prize.
Daniel Day-Lewis, who plays Abraham Lincoln, is favourite for best actor, while Les Miserables star Anne Hathaway is tipped for supporting actress.
But the other acting categories are more open.
All five nominees for best supporting actor have won Oscars before.
This year, it is thought to be a three-horse race between Robert De Niro for Silver Linings Playbook, Tommy Lee Jones for Lincoln and Christoph Waltz fro Django Unchained.
Jones, who plays radical Republican Thaddeus Stevens, picked up the Screen Actors Guild prize for supporting actor, a possible indicator to Oscars success.
But Waltz won at the Golden Globes, and 10 out of the last 12 Globe winners in this category have gone on to win the equivalent Oscar, according to Oscar predictions website Gold Derby.
Waltz won best supporting actor in 2010 for another Quentin Tarantino film, Inglourious Basterds - and some voters may feel it is too soon to honour him again.
Instead, the Academy may feel it is time to reward Robert De Niro again, 21 years after he was last nominated, for Cape Fear, and 32 years since he last won, for Raging Bull. If he triumphs, it will be his third Oscar win.
Alan Arkin (Argo) and The Master's Philip Seymour Hoffman are the other contenders on the supporting actor list.
Best actress is another unpredictable contest. Emmanuelle Riva, the leading lady in Michael Haneke's old age drama Amour, could become the oldest actress to win an Oscar. The ceremony falls on her 86th birthday.
She is challenging Silver Linings Playbook star Jennifer Lawrence, who is thought to be the front-runner for that statuette.
Another rival, Quvenzhane Wallis, could potentially be the youngest ever winner at the age of nine for her role in Beasts of the Southern Wild, although she is seen as an outsider.
They are up against Jessica Chastain, who appears as a CIA agent on the trail of Osama Bin Laden in Zero Dark Thirty, and Naomi Watts, for her raw performance in tsunami movie The Impossible.
Day-Lewis is thought to be the biggest dead cert to be called to the podium at Hollywood's Dolby Theatre.
His turn as the 19th Century US president is universally expected to put him in the Oscar history books by making him the first person to win best actor three times.
His first win came in 1990 for My Left Foot, followed by a victory for There Will Be Blood in 2008.
Lincoln had also been a hot ticket for best picture before Christmas, but Argo, which tells the story of how the CIA and Hollywood helped rescue US hostages in Iran in 1980, has gained momentum in recent weeks.
The fact it focuses on real-life Hollywood producers saving the day probably has not done it any harm, and it has cleaned up at most major awards ceremonies so far, including the Baftas, Golden Globes, Producers Guild Awards and Directors Guild Awards.
But Argo director Ben Affleck was a surprise omission from the Academy Awards' best director shortlist.
That category is another close race, with Lincoln's Steven Spielberg in a duel with Ang Lee for Life Of Pi.
There are outside chances for David O Russell for Silver Lining Playbook, Michael Haneke for Amour and Benh Zeitlin for Beasts of the Southern Wild.
It has not been the best year for UK hopefuls, with only two Brits flying the flag in the four acting categories - Anglo-Irish actor Day-Lewis and British-Australian actress Naomi Watts.
Adele's Skyfall could win best original song and Brits are well represented in the best animated feature category with Paranorman, The Pirates! Band of Misfits and Tim Burton's Frankenweenie, which was made in the UK.
Searching for Sugarman was produced by Man on a Wire's Simon Chinn, while the UK could perform well in many technical categories - hopes are high for Jacqueline Durran for best costume (Anna Karenina).
It could be 10th time lucky for Skyfall cinematographer Roger Deakins - but after missing out so many times, he will probably not be holding his breath.