Granada's Sir Denis Forman dies aged 95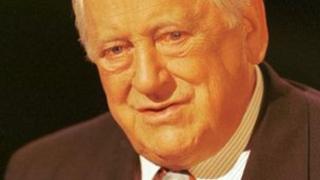 Sir Denis Forman, the former Granada TV chairman who was responsible for bringing programmes such as Coronation Street to screens, has died aged 95.
The TV executive died on Sunday at a nursing home in London.
Sir Denis was one of the founding executives of Granada TV in the mid-1950s and served as its chairman from 1974-87.
Other series he oversaw included World in Action, The Jewel in the Crown and Brideshead Revisited.
Born in Dumfries, Sir Denis moved into the TV and film industry after World War II, during which he lost a leg at the Battle of Monte Cassino in Italy.
He joined the British Film Institute as chief production officer in the Central Office of Information's film division before being appointed its director from 1948 to 1955.
Joining Granada TV at its launch in 1956 as one of the founding executives, he also oversaw such shows as What The Papers Say, A Family at War and The Verdict is Yours, a series of fictional trials improvised by the actors and featuring a real jury.
ITV director of television Peter Fincham said: "Sir Denis Forman was one of the great pioneers of British broadcasting.
"He made a lasting contribution to quality drama and investigative journalism being at the helm of Granada Television for the commissioning of Coronation Street, and responsible for programmes such as World in Action, 7 Up, Jewel in the Crown and Brideshead Revisited.
"He was a remarkable man and will be sadly missed."
Sir Denis also wrote three memoirs, one of which was made into a film - 1999's My Life So Far starring Colin Firth and Malcolm McDowell.
He served as the deputy chairman of the Royal Opera House from 1983 to 1991. He is survived by his second wife, Moni, two sons and two stepchildren.