Will Ferrell to receive MTV film honour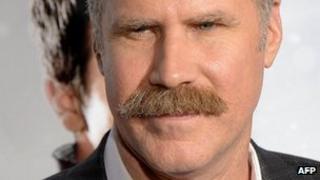 US actor Will Ferrell is to be honoured for his work in television and film comedy at this year's MTV Movie Awards.
The 45-year-old, best known for films such as Anchorman and Elf, will receive the awards' inaugural Comedic Genius prize.
The award was created to honour an actor who has "not only provided a major influence through their work but also transformed the genre".
The star will be presented with the award at a ceremony on 14 April.
"Will Ferrell epitomises what it means to be a comedic genius and it's only fitting that he should be the inaugural recipient of this award," MTV's president Stephen Friedman said.
"Over the course of his extraordinary, 17-plus-year career, he has entertained audiences across the globe with an impressive array of laugh-out-loud performances on air, online and in films.
Quoting Ferrell's Anchorman character Ron Burgundy, he added: "Simply put, Will Ferrell is 'kind of a big deal'."
Ferrell spent seven years starring on Saturday Night Live before moving into film, starring in films including Zoolander, Talladega Nights, Blades of Glory, Megamind and most recently, The Campaign.
He also set up comedy website Funny Or Die and has reprised his role as Ron Burgundy in Anchorman 2: The Legend Continues, due to be released later this year.
Bridesmaids and Pitch Perfect star Rebel Wilson will host this year's ceremony in Los Angeles. It will be broadcast in the UK on MTV on 15 April.