Photographer Rankin focuses on mortality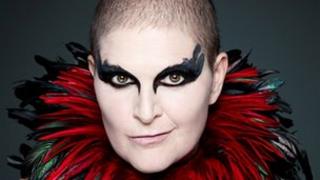 Photographer Rankin is bringing a new exhibition to Liverpool, looking at people with terminal illness and the issue of mortality.
Rankin's Alive: In the Face of Death, which takes place at the Walker Art Gallery from 17 May to 15 September, "looks at life in the face of death".
The renowned photographer called it "one of the most challenging projects I've ever been involved in".
The show forms part of Liverpool's International Photography Festival.
The exhibition marks a collaboration between Rankin, the Walker Gallery, BBC Two's The Culture Show and BBC North.
The launch will be marked by a Culture Show documentary "that will reveal the whole process with exclusive access to Rankin and his subjects", said Culture Show editor Janet Lee.
Rankin, 46, remains best known as a celebrity photographer.
Co-founder of the style bible Dazed and Confused, he has photographed actors, models and musicians, as well as the Queen.
His latest exhibition explores death, documenting those who are "running out of time" but includes images of people who have survived against the odds.
"The issue of death is emotive," said Rankin.
"Part of this exhibition has involved me taking photographs of people with terminal illness, which has been quite a challenging process.
A key element to Rankin's exhibition has been to let people take control of how they are portrayed in the images.
"I've met some amazing people and I think each portrait brings out the vitality of each subject, their humour and unique qualities."
Sandra Penketh, of the National Museums Liverpool Director of Art Galleries, said Rankin had tackled the subject "in a very moving way".
"It is a major coup for the Walker to have an exhibition by one of the world's most influential photographers."
Liverpool's Photography Festival, now in its second year, kicks off with Liverpool's Light Night on 17 May with exhibitions taking place in venues across the city.