Jack the Giant Slayer scrapes to top of US box office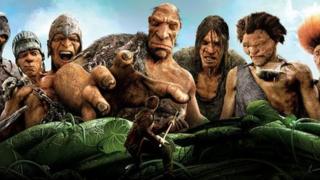 Jack The Giant Slayer 2013's first big-budget action movie, has topped the North American film box office with $28m (£18.6m) in its opening weekend.
Its takings were "underwhelming" given it cost $189m (£125.5m), said Phil Contrino, analyst for Boxoffice.com.
Bryan Singer's film retells the Jack and the Beanstalk fairy tale and stars Ewan McGregor and Nicholas Hoult.
The Hobbit: An Unexpected Journey also reached the $1bn (£664m) mark at the weekend - only the 15th film to do so.
Singer's 3D movie, which features elaborate computer-generated effects, took an extra $13.7m (£9.1m) from 1,824 screens in 10 Asian markets, but it has still fared badly compared with major box office hits - the biggest opening weekend in the US was The Avengers last May with $200m (£132.9m).
Mr Contrino added: "I wouldn't rush to call the film a financial flop just yet because overseas growth can really save a movie.
"I feel that this is a movie that could do really well in other territories and make up for the fact that the North American haul was a little bit underwhelming."
Last week's number one, the comedy Identity Thief, took second place with $9.7m (£6.4m) while adult comedy 21 and Over, written by the screenwriters of The Hangover, was next with $9m (£5.9m). Ticket sales were from Friday to Sunday and are based on studio estimates.
The low-budget horror sequel The Last Exorcism Part II was at number four with $8m (£5.3m) while crime drama Snitch was next with $7.7m (£5.1m).
New release Phantom failed to make the top 10. It stars Ed Harris and David Duchovny in the story of a Soviet submarine captain leading a secret mission.
Jack the Giant Slayer has had mixed reviews so far, with recommendations from 52% of reviewers on aggregation website Rotten Tomatoes.
It said: "It's enthusiastically acted and reasonably fun, but Jack the Giant Slayer is also overwhelmed by digital effects and a bland, impersonal story."
'So little pleasure'
The New York Times said it was "painlessly diverting" for the first 90 minutes, but that "if it drifts with increasing frequency it's because, well, this finally is just a digitally souped-up, one-dimensional take on Jack and the Beanstalk".
The Los Angeles Times agreed, saying: "There may never have been a Jack tale that delivers so little pleasure for so many dollars.
"It's not a good sign for a movie when a large beanstalk is more interesting than many of its characters. "
But Warner Bros, which made the film, said it believed it would perform well in overseas markets.
"It was within the range of our expectations," said Jeff Goldstein, the company's vice president of theatrical distributions.
"We know that this is a global picture and the technology and the special effects will really drive this movie internationally."
Analysts Janney Montgomery Scott, who compile a database projecting film performance, had estimated the film would need to open with at least $25m (£16.6m) at US and Canadian cinemas to make its budget back, not including marketing costs.
Warner Bros added that it was delighted at The Hobbit's box office success.
"We could not be more proud to have reached this amazing benchmark," said Dan Fellman, the company's president of domestic US distribution.