Justin Bieber cancels Portugal gig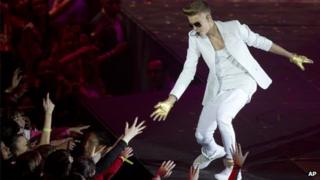 Teen pop star Justin Bieber has cancelled one of his two concerts in the Portuguese capital Lisbon.
The news comes days after the singer was treated in hospital due to on-stage breathing problems in London.
Portuguese promoters Everything Is New said Tuesday's show was scrapped due to "unforeseen circumstances".
Monday's concert will go ahead. "The Canadian singer is eager to play for the Portuguese fans on March 11," a statement said.
As well as having to interrupt Thursday's show in London because of breathing difficulties, the 19-year-old hit the headlines in the UK for turning up late to two other shows - one in London and one in Nottingham - and getting into an altercation with an abusive photographer.
Portuguese newspaper Publico suggested that ticket sales for Tuesday's show were lower than expected. Tickets for Monday's show were still on sale on the morning of the concert.