Royal Opera director questions singers' commitment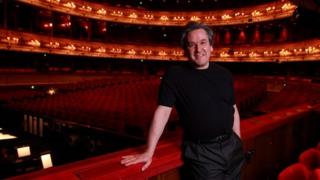 Antonio Pappano, music director of the Royal Opera House (ROH) in London, has criticised the "current generation" of singers, saying they lack commitment.
"They are either weaker in their bodies or don't care," he said, after a number of performers resigned from their roles in the past 12 months.
Speaking at a preview of the 2013/2014 season, he said singers need to plan "greater periods of rest".
"We are loyal and we expect loyalty," Pappano told the BBC after the launch.
Speaking for "all the opera houses of the world", Pappano said that in the era of Spanish tenor Placido Domingo, a contract "meant something".
"Today, there is greater flexibility and I find that very difficult," he added.
The ROH's new season opens with Puccini's Turandot, which will be broadcast live to cinemas worldwide.
A further four new Royal Opera productions will be screened live in the Royal Opera House Live Cinema Season.
Pappano said "the rehearsal process is much more strenuous than it was in the past" due to the filmed productions.
"This business is tough," he added. "Now they're on cinema, they have to rehearse more."
Pappano will conduct two new productions continuing the ROH's celebrations of the Verdi and Wagner bicentenaries.
Verdi's Les Vepres Siciliennes will be performed with a chorus of 90 singers and 32 dancers. Opera director Kasper Holten said the piece is "rarely performed in its full monstrosity".
Holten - who will also direct Don Giovanni - said next year's would be a "really juicy season" that would include productions with a "lot of meat on" in a "financially challenged climate".
Stephen Langridge returns to direct a new production of Parsifal, Wagner's last opera.
There will be seven new productions on the main opera house stage, with five new commissions and two UK premieres planned for the smaller Linbury Studio Theatre.
Following the success of Alice's Adventures in Wonderland, Christopher Wheeldon has created a new full-length narrative ballet, The Winter's Tale.
A new production of Don Quixote has been created by Cuban dancer Carlos Acosta.
There will also be performances of Elektra, Ariadne auf Naxos and a new production of Die Frau ohne Schatten (The Woman without a Shadow) to celebrate the 150th anniversary of the birth of German composer Richard Strauss.
The full season announcement can be seen at the Royal Opera House's website.