Hit maker Cathy's road to success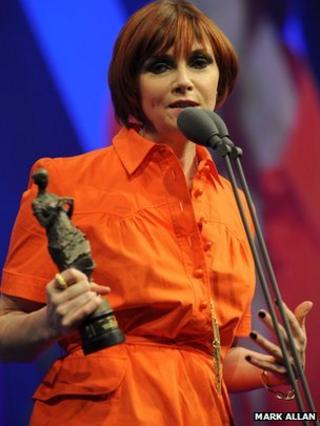 Although not everyone knows Cathy Dennis's name, it would be virtually impossible to avoid the huge number of hits she has co-written for some of the biggest names in the music industry.
Her UK number one hits include Can't Get You Out Of My Head (Kylie Minogue), Toxic (Britney Spears), I Kissed A Girl (Katy Perry), About You Now (Sugababes) and Anything Is Possible (Will Young).
But Norwich-born Dennis, who also had a stream of hits in the 1990s as a solo pop star, has not let success go to her head with her quiet determination to succeed and strong work ethic.
This week she gave a talk organised by music writers group Basca and The Institute of Contemporary Music in London, to give advice to the songwriters of tomorrow.
"If you believe in yourself you have to be prepared to knuckle down and put in the hours and really commit to what you want to do. Hopefully if it is your destiny it will work out for you," she advises.
The writer has mixed feelings about singing talent competitions, believing that some can give the dream of fame to young performers before they have really proved their worth.
"The expectation the person will have because they have won is unrealistic," she says.
However, although Dennis entered a BBC TV talent show herself when she was 14, she feels the experience was beneficial.
"They told me I wasn't right, I wasn't good enough - and that was great for me because every time that happens you realise you are going to have to take control and do it for yourself."
Dennis comes from a musical family - her father was a classically-trained pianist who played in clubs across Norfolk and she would often join him.
One of the clubs was Norwood Rooms ballroom in Norwich, where she sang with her dad's band.
"Sadly that club is now a bingo hall. I have fond memories of singing in the club and I guess it gave me the confidence as a performer," she says.
Talent to write
Dennis was working for insurance giant Norwich Union (now Aviva) - one of the largest employers in the city - when she was spotted singing in a club by manager Simon Fuller.
She went on to score a number of UK hits including Touch Me (All Night Long) in 1991 and a cover of Ray Davies' Waterloo Sunset in 1996.
But towards the end of the decade she lost interest in the idea of being a pop star.
"I had a strange epiphany, I got a bit lost," she says. "I was just not sure if I could carry on being an artist even though I had a lovely A&R [record company rep] man.
"I felt I did have a genuine talent to write songs and if I did not use it, it would be a sin."
She initially started co-writing songs for teen band S Club 7, put together by Fuller, including Reach and Have You Ever.
From there her songs went from strength to strength and she currently has 274 writing and arranging credits.
Can't Get You Out of My Head, co-written with Rob Davis, former guitarist with 1970s glam rock band Mud, was the most played record in the UK in the Noughties, while I Kissed A Girl made history by becoming the 1,000th US Billboard number one.
In 2008, Dennis talked about possibly recording again under her own name, but does she have a yearning to return to performing?
"I did toy with the idea of making another record. It's kind of floating around in the distance. I'm not sure if I'm ever going to grab it," she says.
"I still like the idea of performing. I still obviously sing… I sing a lot of the demos of the songs. I think these days I quite like the idea of performing in a slightly different way, maybe in theatre or a musical.
"I like the idea of doing something different and it's part of my personality that I need to keep on evolving and recreating myself so I don't get bored with who I am."