ESPN fails to meet subtitling and audio access targets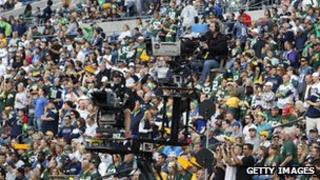 Sports channel ESPN failed to meet its targets to provide subtitling and audio descriptions on its programming last year, regulator Ofcom has said.
The channel had previously been found in breach of Ofcom's code for failing to provide audio descriptions in 2011 despite a target of 3% of programmes.
The shortfall was added to its quota for 2012, however ESPN failed to meet the target again.
Ofcom said it was "in discussions with ESPN about this matter".
The regulator published the findings in its report on television access services for 2012, which covers the provision of subtitling, signing and audio description by broadcasters under Ofcom's code.
ESPN's new target for providing audio description last year was 8% of programmes, however only 2.3% of its content met the requirement.
It also under-delivered on its subtitling target, broadcasting 15.7% against a quota of 22.5%.
ESPN has yet to comment on the report's findings.
Ofcom noted in its report that the two channels which missed their subtitling targets in 2011 - Livingit and Challenge - and subsequently had the shortfalls added to their 2012 targets, had managed to exceed them.
Children's channel Nickelodeon also missed its 2011 quota for both subtitling and audio description, but surpassed its new target last year.
Ofcom said it welcomed the fact the vast majority of channels continued to meet or exceed their television access service targets, with many channels subtitling more than 70% of their content.