Sandie Shaw: finance a 'barrier' for new artists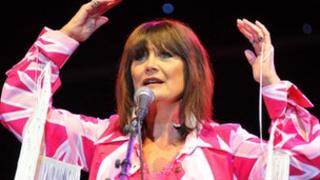 Singer Sandie Shaw has criticised the music industry for favouring "public school" musicians, citing folk band Mumford and Sons as an example.
Finance, she told the Culture, Media and Sport select committee, was "the biggest barrier for emerging artists".
Shaw, a campaigner for musicians' rights, told MPs the best music came from "challenging backgrounds".
But artists from such backgrounds, she said, were at an automatic disadvantage when it came to contract negotiations.
"Unless you're Mumford and Sons and come from a public school and have a rich family that can support you, you just grab anything that they might offer you," she said on Tuesday.
Best known for her 1967 hit Puppet on a String, Shaw suggested that musicians should be given tax breaks that would enable them to spread their commitments over a number of years.
But the 66-year-old defended fellow singer Adele, who complained about paying 50% tax in an interview with Q magazine last year.
The Grammy-winning artist, she said, was "a great ambassador for British music". "We shouldn't be attacking her," she went on.
Adele, the second biggest-selling artist of 2012 in the UK, went to a state-funded school.
So did Emeli Sande, last year's top-selling artist in the UK, and Ed Sheeran, 2012's third biggest seller.
Sande attended Alford Academy in Aberdeenshire, while Sheeran went to Thomas Mills High School in Framlingham, Suffolk.
Mumford and Sons members Marcus Mumford and Ben Lovett, who both went to King's College in south-west London, are among a number of music stars who were privately educated.
Coldplay's Chris Martin was educated at Sherborne boys school in Dorset, while Florence Welch of Florence + the Machine attended Alleyn's School in south London.
Shaw went on to criticise the music industry for being dominated by manufactured artists from talent shows such as The X Factor.
"All we're getting is a load of Simon Cowell-type stuff," she said. "The artists are just mere puppets."
Cowell's Syco label has released records by a number of talent show participants, among them Susan Boyle, Leona Lewis and Olly Murs.