G.I. Joe: Retaliation steals Easter box office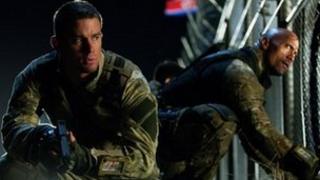 Action film G.I. Joe: Retaliation fought off competitors over the weekend to top the US box office.
The sequel to G.I. Joe: Rise of Cobra was postponed last year to convert the film to 3D, but made $41.2m (£27m) according to studio estimates.
Last week's top earner The Croods fell to second with $26.5m (£17.4m).
In third place, drama thriller Tyler Perry's Temptation starring Kim Kardashian opened above expectations with $22.3m (£14.6m).
Another new release, the science-fiction adaptation The Host from the creator of the Twilight Saga, made a modest $11m to take sixth place.
The second instalment in the G.I. Joe series, Retaliation stars Dwayne The Rock Johnson, Bruce Willis and Channing Tatum as the military toys brought to life to fight their mortal enemy Cobra.
It opened in cinemas on at midnight on Wednesday, helping to bring its total earnings at the US and Canadian box office to $51.7m.
The sequel was postponed in May last year from its original June 2012 release date to convert the film to 3D.
The last-minute decision to delay the movie came weeks after Battleship, also based on a Hasbro toy, had a poor performance at the box office.
Paramount's head of distribution said its debut performance "certainly vindicates the decision".
"Any time you make those sorts of moves, people always assume the worst. The truth is I'd seen this movie a long time ago in 2D, and the movie worked in 2D. It's not trying to be Schindler's List," he said.
"This movie is intended to be enjoyed as a big, action spectacle,."