Eddie Mair: I don't want Jeremy Paxman's Newsnight job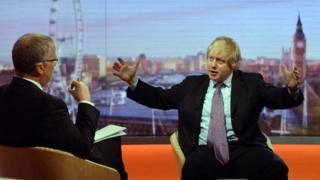 Broadcaster Eddie Mair has dismissed suggestions that he could replace Jeremy Paxman on BBC Two's Newsnight.
Mair recently won plaudits for grilling London Mayor Boris Johnson while filling in for Andrew Marr on BBC One.
But Mair, the voice of Radio 4's PM and an occasional Newsnight host, said he had no ambition to permanently take over from Paxman, Marr or the Today programme's John Humphrys.
"I don't want Jeremy's job," he said. "Or John's. Or Andrew's. I like mine."
However, writing in his weekly Radio Times column, he continued: "Though my contract is up soon and I haven't heard anything, so if you run a radio or TV station and you think there's a future for a 47-year-old in a bad wig - call my agent."
In his interview with Boris Johnson, Mair called the mayor a "nasty piece of work" and questioned him about making up quotes and lying about an affair.
His relentless interrogation led to considerable praise, even from the mayor himself, who said he did a "splendid job".
Johnson added that he was "perfectly within his rights to have a bash at me" after he was quizzed about being fired from The Times for making up a quote while working as a journalist.
ITV news anchor Alastair Stewart tweeted after the interview: "An audition for #Newsnight appears to have gone well."
But the mayor's father Stanley told radio station LBC that Mair's questioning was a "disgusting piece of journalism".
In his column, Mair also commented on his upset at seeing "screengrabs and clips of the eminent and likeable Boris Johnson being badgered by a balding sack of potatoes in a cheap suit".
"The photos revealed something very shocking to me," he wrote. "What in my mind was my discreet but manageable bald spot is in fact the size of a dinner plate."