Broadway legend Elaine Stritch kicks off farewell tour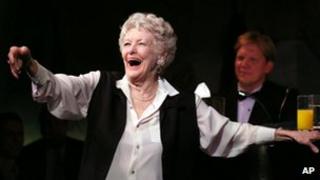 Broadway legend Elaine Stritch has admitted it will be tough to bow out as she kicked off a series of farewell concerts in New York.
The 88-year-old performed to a star-studded audience at the city's Cafe Carlyle that included Tom Hanks, Liza Minnelli and Tony Bennett.
Stritch, who sang and told celebrity stories, told the crowd: "This is the most frightening night of my life."
The Emmy and Tony winner ends her five-show farewell on Saturday.
After seven decades of performing in New York, Stritch - who has diabetes and recently broke her hip - is retiring to Birmingham in Michigan.
"I'm going to kind of take it easy," she said. "Every time I leave the building, I fall on my ass.
"I am going to be able to go to sleep at nine o'clock at night. I've been up all my life."
From time to time, Stritch appeared to lose her way and confessed: "I'm not going to be right on the ball here. I'm going to be just a little bit shaky. So please stay with me."
But the veteran entertainer had the audience in the palm of her hand as she regaled them with tales about Hollywood stars Rock Hudson, Judy Garland and Gregory Peck, along with former president John F Kennedy.
Although when asked if she could talk about Marlon Brando, Stritch quickly shot back: "That takes half an hour. If I were you, I'd go home."
She also sang songs including Eddie Cantor's How Ya Gonna Keep `Em Down on the Farm (After They've Seen Paree?) and a lewd version of Cole Porter's You're the Top, before closing with He Was Too Good To Me by Richard Rodgers and Lorenz Hart.
As the lights went up, Stritch, who had flirted with Hanks throughout, remarked: "There are an awful lot of attractive men in this room, it's making me crazy."
She added: "It's going to be hard to turn my back on you guys, for a little while at least. But I have to. I've just got to take it easy. Wish me well and I'll do the same to you."