Raphael drawing placed on UK export ban list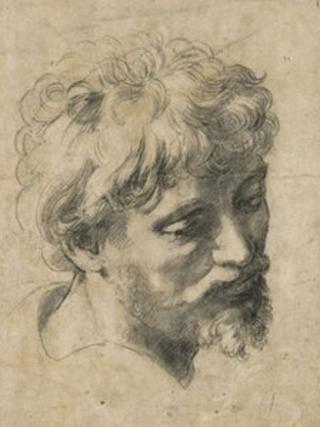 A drawing by Italian master Raphael, held in a private collection, has been placed under an export ban as attempts are made to find the £29m needed to keep it in the UK.
The work, Head of a Young Apostle, is a study for the head of one of the figures in the artist's Transfiguration altarpiece in the Vatican.
Culture minister Ed Vaizey called it a "magnificent example" of his work.
A 15th Century manuscript, worth £4m, is also under a temporary export ban.
The text, Gillion de Trazegnies, tells the story of a crusading knight and is lavishly illustrated. There are thought to be no other copies of it in the UK.
Mr Vaizey said: "This stunning manuscript is an exquisite example of Flemish illumination and it would be wonderful if the extra time granted by the export allows a buyer to come forward and ensure it remains in a UK collection."
Although the recommended price is £3,849,250, the Department of Culture, Media and Sport said lower offers from public bodies, where appropriate, may be considered.
The temporary ban will end on 3 July with a possibility of extending the period until 3 November based on evidence of a serious intention to raise the funds.
The Raphael cartoon, in black chalk and dated 1519-1520, was formerly held at Chatsworth and collected by William Cavendish, 2nd Duke of Devonshire.
Evidence suggests it may previously have belonged to Thomas Howard, 14th Earl of Arundel.
Saved Manet
Mr Vaizey pointed to the Ashmolean Museum in Oxford's success in 2012, of raising the £7.83m to acquire Edouard Manet's portrait of Mademoiselle Claus for the nation.
He said: "Last year the Ashmolean Museum pulled off an amazing coup in acquiring Manet's Mademoiselle Claus, which was similarly at risk of leaving our shores.
"I hope that this success can be repeated."
The export decision has been deferred until 3 July on the grounds of the study's "aesthetic importance and outstanding significance for both the study of Raphael and the history of aristocratic collecting of old master drawing in 18th Century Britain".