Django Unchained blood scenes 'muted for China release'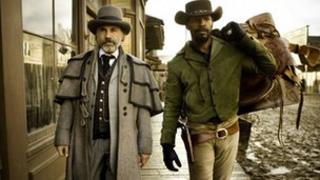 Bloody scenes from Quentin Tarantino's Django Unchained are to be toned down for its cinema release in China, according to the film's distributors.
Sony Pictures told China's Southern Metropolis Daily the director had agreed to the "slight adjustments".
Zhang Miao said changes included "tuning the blood to a darker colour" and "lowering the height of the splatter of blood".
However he added it would not affect the overall quality of the film.
Zhang said the director viewed the changes as "progress rather than a compromise".
"What we call bloodshed and violence is just a means of serving the purpose of the film," he said. "Quentin knew how to adjust that, and it's necessary that he is the one to do it."
Despite the adjustments, Tarantino's Oscar-winning slavery epic will keep its full running time of 165 minutes.
It is the first of the director's films to be cleared for release in China where sexually explicit scenes, violence and other topics deemed inappropriate are often deleted by state censors.
Other Hollywood films including Skyfall, Cloud Atlas and the remake of Red Dawn, have all recently made changes to appease regulators.
China became the world's second-biggest movie market in March, with box office revenues surging in 2012 to $2.7bn (£1.8bn).