The Avengers wins three MTV movie awards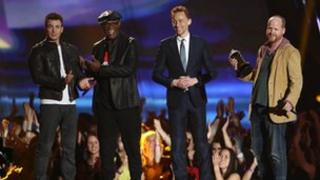 Box office hit The Avengers beat the competition at this year's MTV movie awards, winning three out of a possible four prizes.
The comic book action film won movie of the year and best villain for British actor Tom Hiddleston.
Oscar-winner Silver Linings Playbook took three awards including best male and female for lead actors Bradley Cooper and Jennifer Lawrence.
Australian comic actress Rebel Wilson hosted the ceremony in Los Angeles.
"What's the opposite of humbled? We're Biebered to be standing here,'' said Avengers writer-director Joss Whedon as he accepted the award for movie of the year.
The Marvel film - released in the UK as Avengers Assemble - also beat Django Unchained, Skyfall, Ted and The Dark Knight Rises to win the best fight accolade.
Wilson, who opened and closed the show wearing Iron Man-style armour, won breakthrough performance and shared best musical moment for her role in college musical Pitch Perfect.
The event saw Oscar-winning actor and Grammy-winning artist Jamie Foxx receive the MTV Generation Award, the show's version of a lifetime achievement trophy.
Anchorman actor Will Ferrell collected his gong for the inaugural Comedic Genius award wearing a suit covered in US dollars.
Other prizes went to Mark Wahlberg and Seth MacFarlane for best on-screen duo in Ted and to Twilight's Taylor Lautner for best shirtless performance.
The show also included the world premiere of The Hunger Games: Catching Fire trailer, introduced by one of its stars, Liam Hemsworth.
Harry Potter star Emma Watson, who stars in the upcoming Sofia Coppola film The Bling Ring, received the Trailblazer Award.