Gov.uk wins Design of the Year award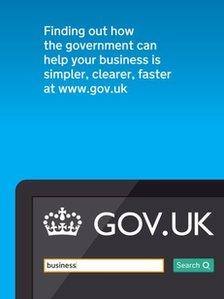 The website Gov.uk has picked up the prestigious Design of the Year award.
Designed by the Government Digital Service, the site is a portal for all of the UK government's websites.
The award, which was chosen from 98 entries, was presented at an awards ceremony in South London on Tuesday.
Judges unanimously voted for Gov.uk above other category winners including fashion, furniture and architecture, for its "well thought out, yet understated design".
Design Museum director Deyan Sudjic said the site was "the Paul Smith of websites".
"It makes life better for millions of people coping with the everyday chores, from getting a new passport, to paying their taxes," he said.
"Gov.uk looks elegant, and subtly British thanks to a revised version of a classic typeface, designed by Margaret Calvert back in the 1960s," he added.
Design of the Year jury member Griff Rhys Jones said the website was "a clear winner".
"It creates a benchmark for which all international government websites can be judged on," he added.
Prime Minister David Cameron said the site was an example of "world class design talent" and enhanced "the modern relationship between the public and government".
Last year, Barber Osgerby, the creative team behind the London Olympic torch, took home the Design of the Year award.
This year, Thomas Heatherwick's shortlisted Olympic cauldron lost out to Kit Yamoto's anti-diarrhoea kits in the product category.
Designed by ColaLife and PI Global, the product was designed to fit into gaps in Coca-Cola crates.
The fashion category was awarded to a documentary about the life of style icon and Vogue editor Diana Vreeland.
The winning website and other shortlisted designs are on display at the Design Museum, London until 7 July.
Related Internet Links
The BBC is not responsible for the content of external sites.