Quincy Jones and Rush inducted into rock Hall of Fame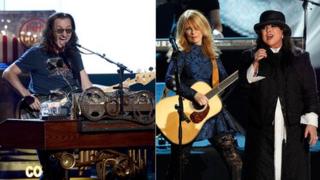 Thriller producer Quincy Jones and rock bands Rush and Heart have been inducted into the Rock and Roll Hall of Fame in Cleveland.
For the first time, the ceremony was held in Los Angeles on Thursday night and featured performances by Usher, Christina Aguilera and Jennifer Hudson.
Rappers Public Enemy, singer-songwriter Randy Newman and late disco queen Donna Summer were also inducted at the event.
Heart's Nancy Wilson said: "I feel like I got into the cool ball team".
She added: "People who are already in the Hall of Fame are some of our biggest influences. Like Randy Newman, for instance, right over there, he's a beast."
Newman, nominated during his career for 20 Oscars - winning twice - is best known by younger audiences for his movie compositions in Disney/Pixar films like the Toy Story franchise.
"I didn't think it would happen until I died or something," the 69-year-old said backstage after his induction.
Prog-rockers
For Canadian prog-rockers, Rush, the honour was more important to their fans said drummer Neil Peart.
"It reflected back on them," he said. "We've always said it's not something that meant a lot to us, but we knew our fans cared so much to be validated like that - that their favourite band, like their favourite sports team, should be celebrated as champions."
The band were inducted by long-time fans Dave Grohl and Taylor Hawkins of the Foo Fighters - who later performed wearing outfits similar to those worn by their heroes in the mid-1970s.
Music producers Lou Adler and Quincy Jones were also honoured. Jones - who produced Michael Jackson's biggest hit albums including Off The Wall and Thriller - was inducted by media mogul Oprah Winfrey.
He said: "It's been a crazy week all week. We celebrated two days ago my birthday with Michael Caine. We're celestial twins, you know."
Director Spike Lee and singer Harry Belafonte presented rap pioneers Public Enemy with their award. Frontman Chuck D paid tribute to fellow inductees, Heart.
"Heart persevered and just broke through a mould and it's the same thing with us in our genre," he said.
He explained the band's three decades-long career, saying: "We worked very hard at it. It's no accident."
There were two posthumous inductions - Donna Summer, who died of lung cancer last year, and bluesman Albert King, who died in 1992.
Blues singer John Mayer sais: "Albert King is why guitar-face was invented."
The full ceremony will be broadcast in the US on 18 May on HBO.