DiCaprio and Theron celebrate lawyer at Glaad awards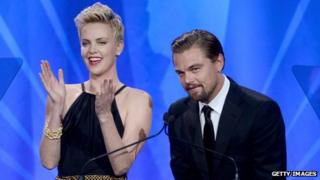 Hollywood actors Charlize Theron and Leonardo DiCaprio presented their entertainment lawyer, Steve Warren, with a trophy at the Glaad Media awards in Los Angeles.
The annual event celebrates the gay, lesbian and transgender community.
Warren received the trophy for his work advocating gay rights in the entertainment industry.
Other winners included Glee's Ryan Murphy TV comedy, The New Normal, and former president Bill Clinton.
Oscar-winner Jennifer Lawrence presented Clinton with the inaugural Advocate for Change Award for his work campaigning to legalize same-sex marriage.
During his administration, the ex-president signed the Defence of Marriage Act, defining marriage as a partnership only between a man and a woman, but his views have shifted over the years.
Clinton, who in recent times has publicly campaigned against anti-gay legislation, called on the audience to "fight bullying".
Oscar-winner Mary Steenburgen showed support for Clinton who introduced the "don't ask, don't tell" policy in 1993, barring openly gay, lesbian, or bisexual persons from military service.
"I think he's spent a large part of his life making up for that. But I tell you this: He's never not had his heart in the right place, in terms of the gay community,'' Steenburgen told the Associated Press on the red carpet.
The Perks of Being a Wallflower, starring Harry Potter actress Emma Watson, took home the outstanding film award.
Writer and director Stephen Chbosky picked up the trophy for the film that features Ezra Miller as an openly gay high school student.
Grammy Award-winning artist Kelly Rowland performed at the event, hosted by actress and director Drew Barrymore.
The final awards will be presented in San Francisco May 11.