Tom Cruise sci-fi Oblivion tops US box office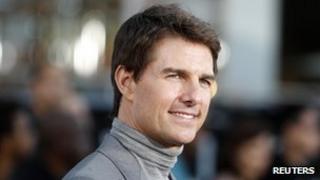 Oblivion, Tom Cruise's latest science-fiction thriller, has topped the US box office with takings of $38.2m (£29.3m) in its opening weekend.
Studio figures showed it had notched up ticket sales of $33.7m (£25.8m) outside of America the previous week.
The film, which also stars Morgan Freeman, has now taken a worldwide total of $150.2m (£115.1m).
The biopic 42 - about the first black baseball player, dropped to second with total sales of $54.1 (£41.4m).
In third place, DreamWorks' 3D computer-animated comic adventure film The Croods took $9.5m (£7.3m), while Scary Movie 5, the latest in the franchise, earned $6.3m (£4.8m).
In fifth place G.I. Joe: Retaliation achieved sales of $5.8m (£4.4m). The action sequel has taken over $300m (£229.9m) worldwide.
In Oblivion, directed by Tron: Legacy's Joseph Kosinski, Cruise plays a repairman stationed on a barren future Earth evacuated after an alien invasion.
The film opened in around 35 countries including France, Sweden, Argentina, and the UK ahead of Hollywood, where it took $13.3m (£10.2m) on its opening day on Friday and $14.9m (£11.4m) on Saturday.
"He's a global star," said Nikki Rocco, head of distribution for Universal, "People love Tom Cruise. If you put him in the right vehicle, they love him even better."
Oblivion did better than expected, but despite its strong debut and total sales amassing $109m (£83.5m), overall earnings were down 19.4% on the same week in 2012.
This time last year, romantic comedy Think Like a Man and drama The Lucky One earned a combined $56m (£42.9m).
Hollywood.com analyst Paul Dergarabedian said: "Even when we have a good weekend like this in 2013, generally these weekends, they pale by comparison to what happened last year."
Total domestic revenues this year are down 11.2% overall to $2.76bn (£2.11bn), compared with record figures in 2012.
Upcoming offerings Iron Man 3, Star Trek Into Darkness, The Hangover Part III and the Superman franchise reboot Man of Steel are expected to go some way to bridge the gap.